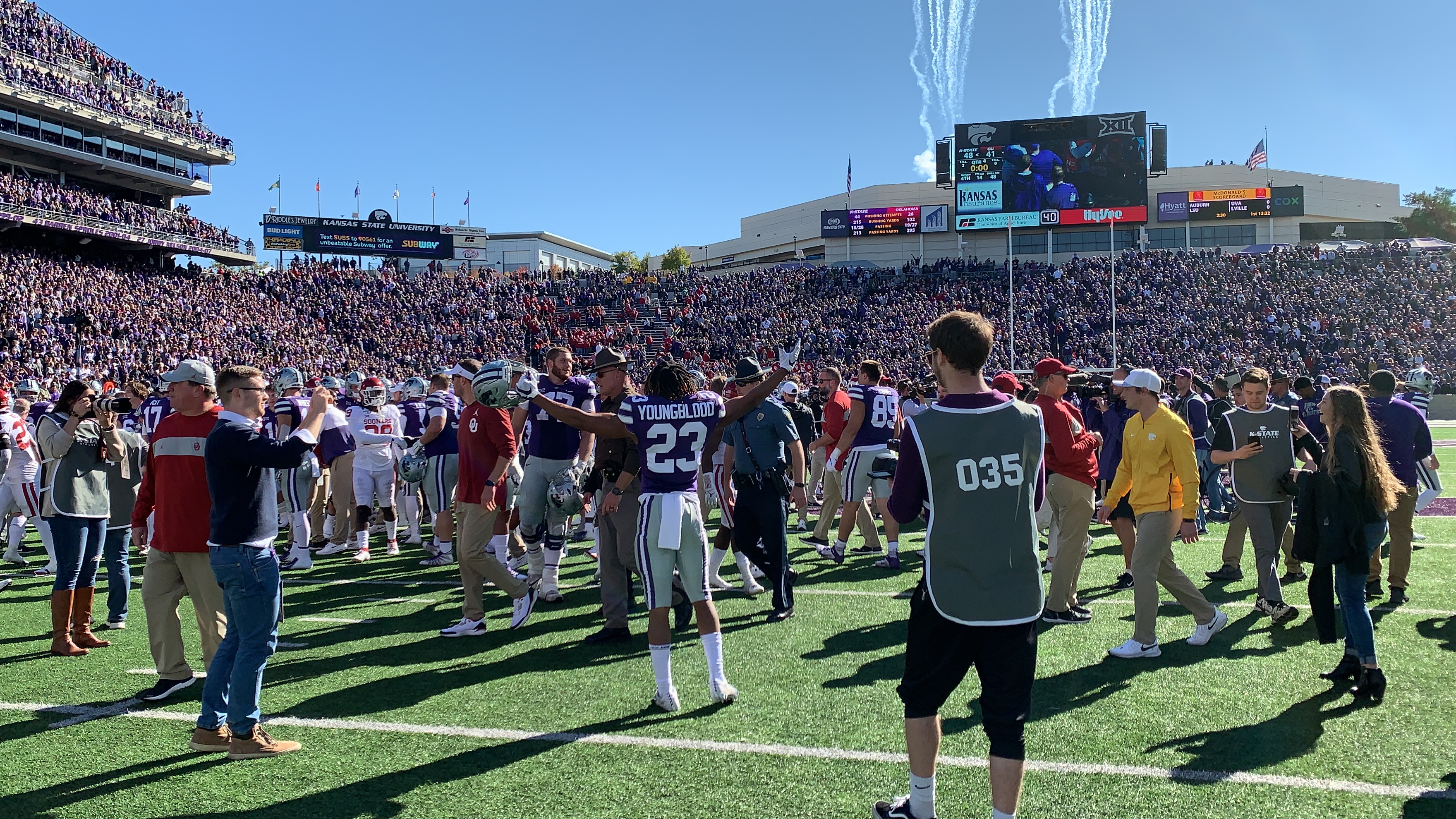 Manhattan, KAN. – All was normal two Oklahoma drives into their game at Kansas State on Saturday. The Sooners were 2/2 on scoring and up double digits, but don't count your eggs before they hatch.
K-State would drive down the field many times in the game, it all started with an 88-yard touchdown drive that ended with Skylar Thompson walking into the endzone. A common theme for the K-State junior quarterback on Saturday.
Thompson would score four rushing touchdowns in the game and James Gilbert and Josh Youngblood would add one each. The six touchdowns were a part of eight consecutive drives where K-State came away with points.
Rallying to take a 24-23 lead into the half, K-State dominated the time of possession and for the most part held Oklahoma star wideout CeeDee Lamb in check. Lamb would break a 70 yard touchdown reception in the 2nd half.
K-State ballooned their lead to 25 at the beginning of the 4th quarter. The Wildcats were then just over 12 minutes away from knocking off a top five opponent. OU didn't die quietly though, scoring a quick touchdown (previously mentioned Lamb score) and then Jalen Hurts added a touchdown run as well.
With 1:45 left to play, Oklahoma kicker Gabe Brkic made it 4/4 on the day to cut the lead to seven. On the ensuing Oklahoma kickoff, the onside kick ended in the hands of the Sooners. Initial ruling from the referees was that OU had recovered the ball, but the Big 12 decided to review. After a lengthy delay to look over the play, it was determined that Oklahoma touched the ball before it had gone 10 yards and K-State was awarded the ball. Three kneel downs later and K-State had their first win versus a top five team since 2006 against Texas.
After the game, head referee Reggie Smith said, "we did consider all aspects of forced touching. However, based on Rule 2-11-4-c, this is why we came to the decision that we came to. Rule 2-11-4-c was the primary determination for considering the forced touching."
The rule in question regards forced touching and if a player was blocked into touching the ball.
After the game, the onside kick was questioned, as well as OU Head Coach Lincoln Riley's decision to kick field goals early in the game with short yardage situations, his response, "no regrets."
Now K-State gets set for a road trip to rival Kansas next Saturday with kickoff at 2:30, Powercat Gameday starts at 10:30 on KMAN and 101.5 K-Rock.
| | | | | | |
| --- | --- | --- | --- | --- | --- |
| Team | 1st | 2nd | 3rd | 4th | FINAL |
| #5 Oklahoma | 17 | 6 | 0 | 18 | 41 |
| K-State | 7 | 17 | 17 | 7 | 48 |