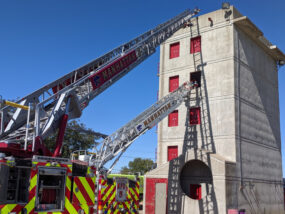 To end National Fire Prevention Week, the Manhattan Fire Department held their annual open house.
Deputy Fire Chief Ryan Almes says this event gives the public the opportunity to see what they do and provide some fire safety information.
"We always look at the fire department as something that the citizens pay for, so we like to showcase what we do, the services we provide, and allow them to get an up close look at our people and our equipment," says Almes.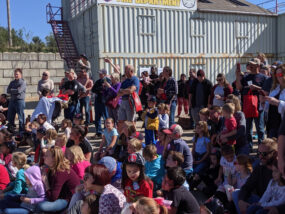 One of the main goals of the event is to get families to think about the precautions they need to take at home. To show this, the MFD had several demonstrations for the public such as a smoke room, testing out a water hose, hazardous materials, and outdoor fire regulations.
"This year's theme is plan your fire escape, which means we want families to go home to test their smoke alarms, create a fire escape plan, and the practice that plan," says Almes.
Almes says they always like to inform the public on the importance of smoke detectors. They recommend they get tested monthly and to change the batteries when they change the clocks for daylight savings.  He stressed families to replace smoke alarms older than 10 years old.  They can build up dust and cause false alarms.
The main demonstration they had was on sprinkler systems in the house.  Two similar rooms were setup next to each other; one with a sprinkler and one without.  The firefighters then started the fire in the room without a sprinkler and showed how fast and how damaging the fire can get.  They then started a fire in the room with a sprinkler to show how quickly the fire can be contained.
Almes reiterated this event is for the community since they enjoy serving the community.
"You look at our core values and our mission statement and it's all about helping people," says Almes.
In the end,  he says they really pride themselves on helping the community and helping the citizens.  Assistant Chief Ryan Courtright says the event also helps humanize the department and
a great outreach opportunity for fire education.
"A lot of it is helping people just find answers and educating them about some of the rules here in Manhattan," says Courtright, "You may spend hours helping one individual, but at the end of the day when you see that smile that's the satisfaction."