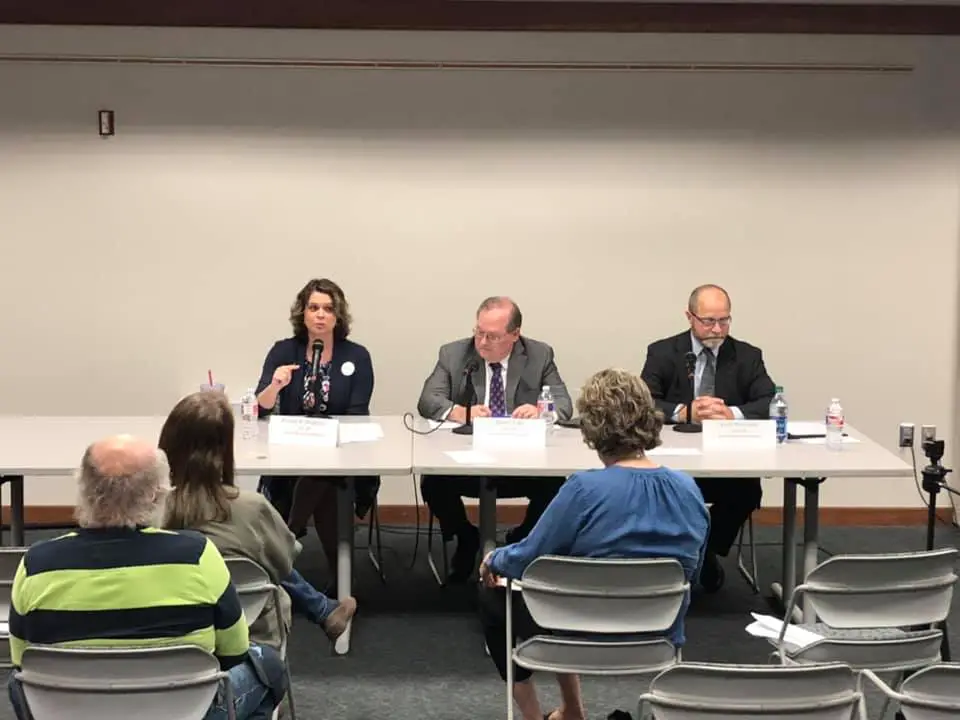 Members of the public were able to hear from some of the Manhattan-Ogden USD 383 school board candidates on Sunday. The other two candidates running for school board who were not present are Brandy Santos and Joseph Dasenbrock.
Hosted by the League of Women Voters at the Manhattan Public Library, Candidates Kristin Brighton, Darell Edie, and Curt Herrman. Edie and Herrman are currently on the board running for re-election while Brighton is running for one of the seats. The full audio can be found below.
The first question asked by the league was about the three biggest challenges facing the school district and then what would they propose to address them. Brighton's first challenge for the district is the workforce.
"As an employer, the district is one of the largest employers in the community and it's getting to be more difficult to recruit people to fill in all of our positions. Without enough people in those support roles, it just makes the stress on teachers even worse," Brighton said.
Brighton says they need to look for more ways to make the district a much more attractive place to work by listening to employee feedback and possible wage increases. The other two challenges she brought up was the redistricting and making sure kids are prepared to enter the workforce.
Edie says they need to make sure they have a diversified educational process and mental health of the students.
"They've gone through a lot of stresses. When you're looking at over 315 homeless kids within your school district, that's a lot. Families have gone through deployment time after time. We need to deal with the mental illnesses of our kids to give them strength and encouragement and our teachers as well," Edie said.
Edie's third challenge is the current bond. Herrman agreed with Edie on the construction projects and Brighton on the redistricting, but also brought up special education funding.
"We have a high population of special needs kids, especially from Fort Riley soldiers who want to come here and request, so we've got to make sure that's funded correctly," Herrman said.
The next question from the league was how would the district recruit and retain diverse staff, as well as providing an inclusive environment? Edie started off saying they have had trouble doing this in the past.
"To do that, we're going to have to do some unique recruiting. In health care, when I was there, we actually went out and found high school kids that were considering it, if they would come to our hospital, we would pay part of their tuition, in order to have a commitment for four or five years," he said.
Edie says the best they can do is maintain a sense of balance when it comes to diversity issues in the district.
Herrman says the issue of recruiting a diverse staff has been an issue ever since he began his term on the board.
"We have a teacher factory in our own backyard at K-State and the percentage of minority teachers coming out of there is not that high. We do not have one black teacher at our high school and to try to get another one from another university would be difficult. I think recruiting at different colleges with more minority teachers coming out would be one way to address that," he said.
Herrman praised the district as being a welcoming district and are making sure they have equal opportunities for teachers and students to make that possible.
Brighton says she hopes this will be an ongoing goal that will continue to have people of color working in all aspects in the district.
"While we want to continue to try to get more diversity in our population, we also have to make sure we have enough applicants in general. The number one way to build our diversity is to try to get more people of color to enter education as a career, but then also we need to look at efforts to try to get other people to go into education later in life," she said.
Brighton says she was able to tour some of the schools in the district were she was able to meet with a teacher who was raised in another country.
Finally, the candidates were asked about the district's responsibility of mental health for students and faculty and what strengths or changes needed to occur in the programs.
Herrman says first they need to have the staff equipped to handle mental health issues.
"During the last round of budget cuts, that was the low hanging fruit at the time. We had counselors and social workers that were going between buildings. So I think we've been able to hire those positions back. We also have a partnership with Pawnee Mental Health for students and staff," he said.
Herrman says one of the weaknesses would be the fact they didn't have a mental health program for the employees until just recently.
Brighton says she spoke with a teacher focus group about the number of resources they would ask for, which ended up being more social workers and guidance counselors.
"Principals are on the same page saying all the changes in society are bleeding into our classrooms. I've had fourth grade teachers tell me there have been weeks they've done more than one suicide report. These are issues that if they're not taken care of, they're getting in the way of learning, unfortunately occupying so much of teachers' time that it gets in the way of what they were hired to do," she said.
Brighton says they will need to continue to expand their mental health programs and also have a focus on self care.
Edie says their multi tier system support program is one of the strengths in the district.
"We can see if there is something that clicks or goes wrong and try to help in that area. The work we have with Pawnee Mental Health, the two programs we have set with them this year are great for our teachers and our students to see when things are happening, how we can help them and what's going on," he said.
As for weaknesses, Edie blames phones for some of the mental health issues they are seeing in the district.
The election is Nov. 5. The deadline to register to vote is Oct. 15. Advanced voting and mail-in voting begins Oct. 16.