Manhattan City Commissioners are keen to keep 12th Street between Bluemont and Moro two-way as discussions surrounding potential Aggieville redevelopment continue.
The Commission Tuesday voiced majority support for the proposal amid a discussion on plans for multiple projects around the district that could include streetscape and water infrastructure renovations, district-wide public WiFi and a new parking garage next to Rally House. Past estimates for all proposed projects came in at a total price tag that ranged from $23 to $30 million — $9.5 to $12.5 million alone to pay for construction of the garage. The Aggieville TIF district is expected to bring in $15 to $20 million for the projects over the next 20 years, leaving the remainder unfunded.
The preferred streetscape option, in addition to maintaining two-way traffic, would re-imagine 12th Street from Bluemont to Moro with new paving, new greenery as well as the possibility for outdoor bistro dining areas on both sides of the street and bollards that could close the road for events. Underneath the ground, water and sewer infrastructure would get attention as well.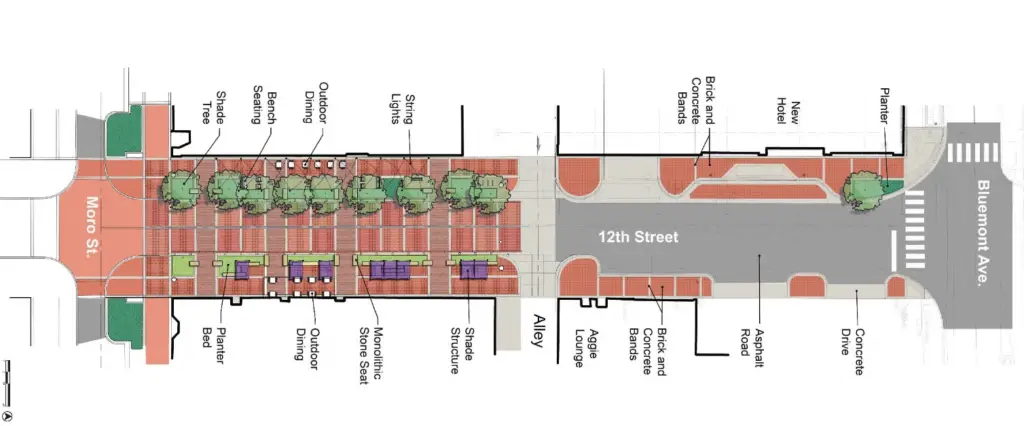 An alternative would have reduced 12th Street to one-way traffic in order to create an outdoor patio space for lease that could be seating for public events or restaurant seating. Commissioner Jerred McKee said this concept interested him more as he hopes to eliminate as much traffic in Aggieville as possible, citing support to close the roadways to traffic in the Aggieville Community Vision survey.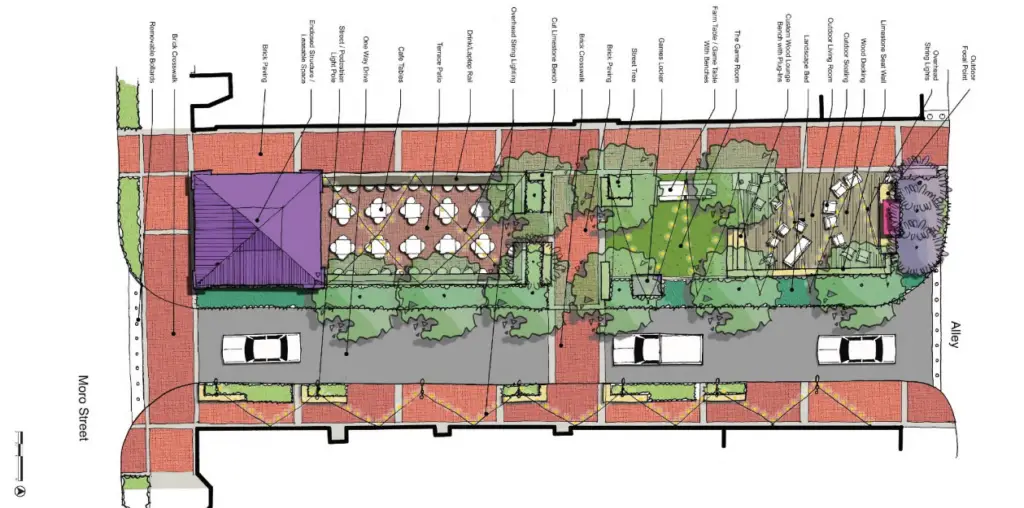 "My gut feeling is it discourages traffic," says McKee. "At least how it's laid out in the concepts you presented there in what could occur there in that new space I just find a little bit more intriguing and exciting."
Commissioner Wynn Butler joined the rest of the commission in giving the nod to the first option, agreeing with others that they wouldn't want to give a favorable amenity to one side of the street as opposed to another. Butler also had no interest in the city getting involved in managing a potential outdoor patio space.
"That's something else that will wind up on Parks and Rec[reation]," says Butler. "We've got enough already, we don't need anymore."
Commissioner-elect Mark Hatesohl agreed with the majority during public comment, saying he'd like to keep the two-lane traffic specifically.
"And the weather in Kansas is bad enough that […] we don't need to commit a lot of space to outdoor dining because there's only 5 or 6 months of the year — maybe 7 if you put those heater things over — where people are going to be wanting to stand outside, heat outside."
Streetscape improvements are planned for the edges of Aggieville, including the potential for art fixtures and seating arrangements in a planned walkway between the parking garage and the existing Rally House — currently referred to as "Rally Alley."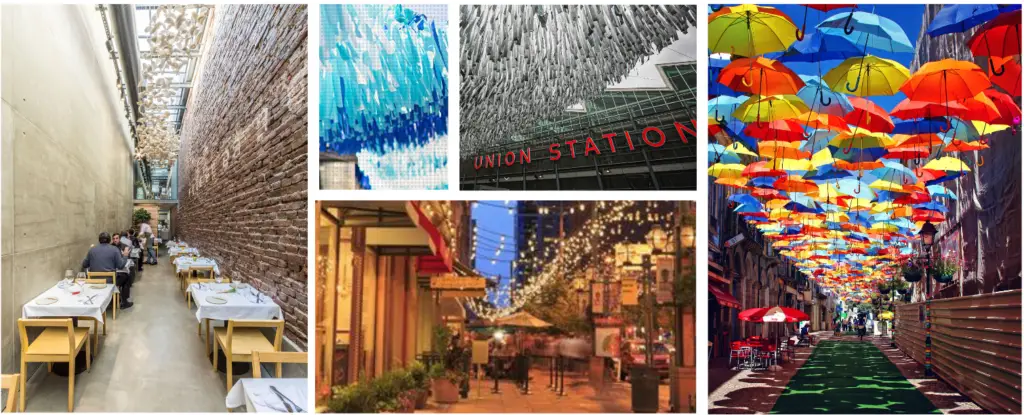 Commissioners also discussed the possibility of instituting paid parking on streets around Aggieville in addition to in the garage, the revenue from which would help pay for costs associated with managing traffic in the district. Mayor Pro Tempore Usha Reddi didn't want to make it too cost prohibitive and discourage people patronizing the district.
"There are many other places in Manhattan I can go to and eat," says Reddi. "I might change my own behavior because of it."
Businessman Cam Ward advocated against paid street parking around the district, saying with businesses closing "constantly" that "no one in the district" will support parking meters.
"Seeing the future is exciting — don't kill our businesses in the process," says Ward. "There's only so many of us that want to keep investing our money into this town when we see costs going up for our property taxes, cost of construction going up."
Multiple commissioners including Mayor Mike Dodson also questioned the installation of parking meters on streets in Aggieville — at least in the immediate — saying they won't see much return on their investment on meter equipment in the short term after the construction of the garage.
"Once we get that parking garage in, we have to see kind of how it evolves," says Dodson. "I think you have to let that play out, making an investment of that kind early on, I'm not getting it."
Part of the plan also included the potential for the hire of new parking ambassadors to be involved in parking management and even ticketing, but the idea didn't pull much support from commissioners. Hatesohl said that there needs to be a balance of paid and free parking and a way to deter KSU students from using the district when not actively patronizing the district.
Bill Varney of Varney's Inc. spoke during public comment as well, requesting that a door, stairwell and elevator core in the planned garage be relocated from the Southwest to the Northwest corner so that businesses like Goodcents and Insomnia Cookies will have more direct access. He rose concerns about access at a prior meeting on the topic as well.
"It's not fair to provide parking for all of Aggieville and yet have no particular easy way to get from the parking garage to Varney's property," says Varney. There are also talks ongoing with Varney to have a bridge built from the second floor of the garage into the upper level of Rally House.
RCPD Director Dennis Butler also spoke during pubic comment about plans to relocate the Aggieville substation into the commercial space planned in the garage, which Commissioners expressed is still their intention to provide.
As designs and planned amenities are finalized, the commission will be presented with more concrete price estimates in a February meeting. Multiple commissioners also expressed concern about the future of various projects due to the failure of the recent sales tax ballot question in November.
"I want it to be as sustainable as possible," says Commissioner Linda Morse. "So this finance discussion in February will be critical."
Commissioners did not vote on construction or funding authorization during the work session.