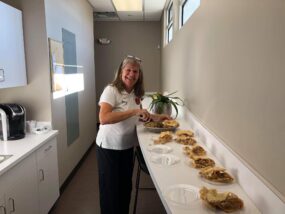 With the Eastside and Westside Markets closing on Nov. 23rd,  owner Terry Olson appeared on Friday's episode of In Focus to discuss her experience running the locally-sourced plant and produce stores over the past 43 years.
While Olson first started working at Eastside Market in 1974, her story can be traced back even further to her time helping family members run the Kaw Valley Greenhouses, which opened in 1967, and selling tomatoes off the back of a cart pulled by her pet St. Bernard.
It was in settings like this that Olson began to learn about plants and selling fruit and vegetables.
After going to college with the intention to be in a pre-med program, Olson decided to return to Manhattan to pursue her interest in plants.
Olson began working at Eastside Market as a summer job, but after the owners decided to they no longer wanted to be involved with the store, she and her sister decided to take a stab at running it in 1976.
"It was just a summer job at first, but then it was just so popular with people and the little shack that we were in at Eastside Market wasn't adequate, so we looked for property and found the property at Westside Market that then had a Dog N Suds drive-in on it," Olson said.
After a couple years at that location, a strip mall was put up and Olson was sure to reserve a space for her business.
On the other side of town, around the same time the Manhattan Town Center mall was going up, Olson's longtime-land lord redeveloped the building containing Eastside Market to her specifications.
"It was at that point that we really got a lot more year round and permanent," Olson said. "And at first we just had family members working and friends but it grew into what it is today where we've got around 10 year-round employees at each location. It's been just wonderful."
13 years after Olson told her husband she would retire in five years, she is finally stepping away from her business.
Some who know her know that this decision would never come lightly given her passion for her work and her love for her staff and customers.
"When I chose to quit, I'd always be bonded to my staff," Olson said. "So that's the hardest thing about quitting and also the customers. I'd got letters from people who have multiple generations of shoppers in their family and each one had a specific thing that they liked the most and it's hard to tear myself away from that. I never tired of this job."
When the time came to make a decision, Olson felt good about her decision.
"I'd spent probably a month of sleepless nights coming to the decision, but I just felt like when i woke up the morning a week before we announced, I knew it was the right decision," Olson said. "I told my employees and family. Somehow they kept it secret for an entire week before I came right to KMAN and The Mercury to let them know the morning that we started this sale."
Through the years, Olson tried getting the Eastside and Westside Markets involved in different areas of business, but she says they always went back to the staples of "fine fruits, fresh veggies and fast, friendly service."
Sticking with these principles has helped Olson keep her stores open for this long and she believes similar businesses can still have success, but she does have some advice for prospective entrepreneurs.
"My advice to anyone starting any business is don't do it on very much borrowed money to reduce the stress," Olson said.
Now that her time as owner is coming to an end, Olson hopes to do things she didn't have time to do in the past. She hopes to spend more time with her eight grandchildren, run in more 5K races and travel with her husband.
"He wants to be able to travel at times of the year when I would never permit it because I would only let us leave in January and February when it was dead at the market." Olson said. "So we'll have the freedom to travel when we want."
One last comment Olson had before leaving this discussion with KMAN, which is one of many she has had with the station over the years, was a strong endorsement of the employees that will be going on to new ventures after Nov. 23rd.
"Anybody who inherits one of them, the level of customer service at their operation is going way up," Olson said."
In the meantime, the Eastside and Westside Markets are still open and are offering free apple cider, 30% off produce and various other deals, some of which can be found here.