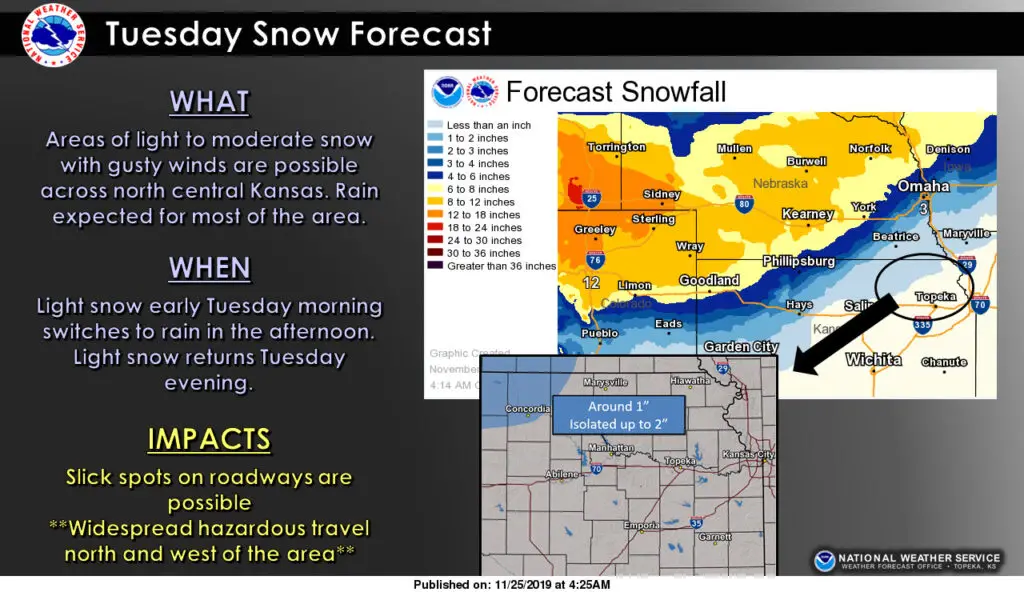 If your plans this week include travel, you may want to pay close attention to the weather forecast.
The National Weather Service says a strong winter storm will impact the Central Plains including portions of northwest Kansas, Nebraska and Colorado where upwards of 12 inches of snow is possible. Light snow around 1 inch is expected over far north central Kansas. Light rain is also forecast for most of the area with this system which will impact travel Monday night into most of the day on Tuesday.
While Tuesday's system has higher impacts to our neighbors to the north and west, confidence is increasing for Thanksgiving's storm system to bring winter precipitation to northeast Kansas. Highest chances for snow are Thanksgiving morning across the entire area before transitioning to a rain/snow mix in the afternoon near the Interstate 70 corridor and locations southward. While confidence is moderate for snow to occur, timing and snowfall amounts are too uncertain this far out.
The possibility for hazardous travel is increasing so it's important to stay weather aware – especially if you are traveling on Thanksgiving. Rain and a possible thunderstorm could impact travel Friday and Saturday.
For up to the minute road conditions in Kansas visit kandrive.org.