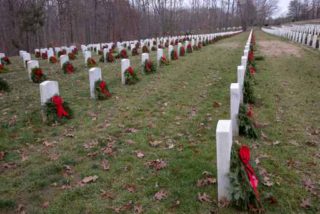 A wreath-laying ceremony will be held at Fort Riley Post Cemetery on Dec.14th at 11 a.m. as part of a national effort from the Wreaths Across America organization to remember fallen soldiers, honor soldiers currently serving and to educate children about freedom.
"We will place ceremonial wreaths for all of the military services in our country: Army, Navy, Merchant Marines, Coast Guard, Air Force and also we do the POW/MIA and the Gold Star Mothers," Jerri McBride of VFW Post 1281 said.
This ceremony will mark the 13th year that it has taken place at Fort Riley.
The program's origins can be traced back to 1992, when the Worcester Wreath Company out of Harrington, Maine, donated a surplus of wreaths to be placed in older, lightly visited sections of Arlington National Cemetery in Washington, D.C..
Since then, the effort to honor military-service members with the laying of wreaths has spread to over 1600 locations, including several in Kansas.
A full list of Kansas locations participating in Wreaths Across America Day can be found at wreathsacrossamerica.org.
Opportunities to donate and volunteer for the organization are available.
Donations can be made by visiting wreathsacrossamerica.org, going to Local Fundraising Groups, choosing the donation amount and choosing the cemetery receiving the donation.
The location code for Fort Riley Post Cemetery is KSFRCF.
Wreaths cost $15 each, but by using the code KS0017, three wreaths can be donated for the price of two.
Those wanting to help lay wreaths at the ceremony on Dec. 14th just need to stick around after it ends.
Another organization devoting time and effort to military members and families is Operation Santa Claus.
Through this program, families who may not be able to afford presents for Christmas can set up an appointment to go to building 1828 at Camp Funston on Fort Riley and pick out two toys per child, a game and some stocking stuffers.
"A soldier E-5 or below goes through their chain of command and when they talk to their chain of command, they get in contact with their battalion and brigade (and) they contact us," Spc. Benjamin Dominic, an Operation Santa Claus elf, said. "Basically, they get a thing called a golden ticket and that golden ticket allows the family to come and pick up toys with their children."
While the "elves" that help make the operation happen are doing so in addition to their regular military duties, it can be a good experience for them.
"I love working with the kids," Spc. Dominic said. "It was great on opening day to see all these kids run around, smiles on their face."
Families can set up appointments on Wednesdays and Fridays to pick out presents.
The program does take donations of both toys and money.
Monetary donations can be made with cash or check. Those interested in making a donation through the internet and wondering where to send monetary donations  and contact Operation Santa Claus by calling 785-239-2771.
Some locations toys can be donated to are Walmart in Junction City, the Chamber of Commerce, City Cycle Sales and the USO on Fort Riley.
Operation Santa Claus is in particular need of toys for girls and boys two-years old and younger.