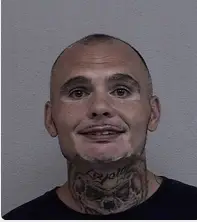 Minimum-custody inmate Kyle Ingels #98449 was placed on escape status at approximately 6:48 p.m., Tuesday, after he walked away from the Wichita Work Release Facility. Offender Ingels has yet to be located.
Ingels, a 32-year-old white male, left for work at 10:30 a.m. and was reported missing when he did not report back to the facility following work Tuesday evening.
The KDOC requested Tuesday evening that anyone with information on Ingels to report it to the Kansas Department of Corrections at 620-221-6660, the Kansas Bureau of Investigation at (800) 572-7463 or local law enforcement at 911.
The department is now advising that anyone with information can also report it to Crime Stoppers. Any tips or information can be made anonymously, and reporters can receive a cash reward from Crime Stoppers for tips that lead to Offender Ingels' apprehension.
Those tips can be made by calling the Crime Stoppers Tips Hotline at 316-267-2111, using the free mobile app P3Tips.com, or the website for Crime Stoppers of Wichita-Sedgwick County.