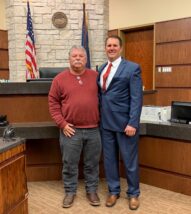 For the first time in about 19 years, Pottawatomie County has a sheriff not named Greg Riat.
Undersheriff Shane Jager was selected by Republican Party precinct leaders last night to be the new sheriff in a 19-7 vote over Wamego Police Chief Mike Baker.
"It's a great honor and pleasure," Jager said. "We have a great community, a great county. We have a lot of great people in Pottawatomie County and it's a great honor to be a representation of that."
The decision came about three weeks after Riat was selected to be county commissioner Travis Altenhofen's successor.
While he has big shoes to fill, Jager believes he brings plenty of experience to the table.
Jager began his career with the Pottawatomie County Sheriff's Office 26 years ago as a patrol deputy and was eventually promoted to detective. He has been Riat's undersheriff for the last 15 years where he has been the second-in-command, overseen day-to-day operations, worked directly with several different department's within the Sheriff's Office and has played a large role in maintaining the county jail.
In addition to his experience, Jager also credits his family's long history in law enforcement with preparing him to be the sheriff.
"I have to credit some of that to my father and my grandfather," Jager said. "I'm a third-generation police officer. That experience, just learning from my father and my grandfather about what a police officer does; they go out and make a difference each and every day. We encourage our deputies to go out and make it a better place; continue to make a difference each and every day."
Now that he will for sure be taking on the duties of being sheriff, Jager wants to continue building on what Riat has done over the past 19 years.
While he looks forward to doing so, Jager wants it to be known that not everything will remain the same.
"I have different ideas," Jager said. "I have different thoughts. I will expand upon where (Riat has) brought us to. I want to continue to grow."
During his time as sheriff, Jager wants to improve how the office communicates with the community.
One way he plans to do so is through improving the department's social media presence.
"Social media is a big thing," Jager said. "Communication is the link to any successful operation. I want to bridge that gap with the community. I want to have that social interaction. Sometimes it's going to take that social media to do that. We're not going to go away from the newspaper or from the radio stations because, again, we need all that support."
He also wants to start a community resource program made of people from throughout the community that he will talk to in order to stay in touch with the wants and needs of the county.
The new sheriff's ability to achieve these goals will likely be dependent on his ability to be re-elected in next years election, for which he has already registered.
If he does get re-elected, Jager plans to take a one-term-at-a-time approach.
"I'd take it four years at a time," Jager said. "I've done the job for 26 years. After four years, we'll see where we are at because, again, I want to continue to make this place grow. I may look at it and say, 'you know, I haven't completed all the tasks that I wanted to complete.' So I may run another four years, I may run another eight years, but I want to put the first four years under my belt before I ever make that decision."
This will all begin this Saturday when Jager is officially sworn into office.
Despite not yet officially being sheriff, Jager has already named Captain Doug Adams, a member of the Sheriff's Office for almost 19 years, as his undersheriff.
Adams is described by Jager as a family man who has risen through the ranks, has been instrumental in the investigation division, is devoted, educated and always available.