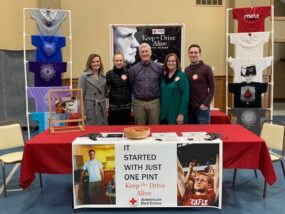 A two day blood drive will be able to help 765 patients in need of blood over the holiday season.
The 10th annual Kevin Coffey Keep the Drive Alive Memorial Blood Drive was held last week collecting 254 pints of blood.
The drive was started by Ray and Maxine Coffey in memory of their son Kevin, who was an advocate for blood donations. A drive is also held at Temple University where Kevin went to college.
For every pint of blood donated, three people will receive it. This means this blood will help 756 people.
As many people as this drive will help, it is just a fraction what the Coffey family has been able to do over the years with a blood drive that has continued to grow.
"We see so many people come back who were friends of Kevin's or parent's friends, just community members who are faithful supporters of this," Maxine Coffey said. "To this point, without counting the blood that's been donated in this drive, over 3,000 pints of blood have been donated. That's over 9,000 people's lives that have been affected."
Kristi Ingall, the account manager for the American Red Cross who has worked with the Coffey family since the beginning, says this blood drive has also made people in the community more aware of the need for blood.
While the Coffey family's desire to carry on Kevin's cause has certainly affected many people in need of blood, it has also continued to affect those who knew Kevin personally.
"Kevin donated blood whenever he could," Paul Hyer, one of Kevin's friend from his time at Temple University who drove from Minneapolis, MN, to participate in the drive, said. "I had never given blood until after his passing and then I started to give because of him."
Amanda Folk, another of Kevin's friends who came to Manhattan to participate in the drive, says she likes seeing so many people come together to participate in something Kevin was passionate about.
This year, participants were given an extra incentive to donate in the form of a drawing for a $50 gift card to Cox Brothers BBQ.
Ray Coffey says Cox Brothers has a special connection with the drive since their father went to Temple University.
Sam Hennigh and Derek Simmons contributed to this article