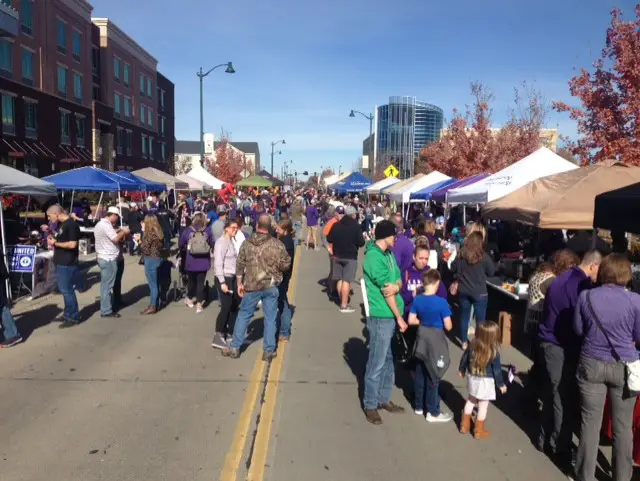 Manhattan residents not only enjoyed beautiful weather
this weekend, but also some great tasting chili as well.
The third annual Manhattan Chili Cook=off was presented by The Greater Manhattan Community Foundation's Young Trustees, and featured a line up of great tasting chili. Each chili was made by a team, which consisted of a local non-profit paired with a local corporate sponsor. As people entered the cook-off they voted on which chili was their favorite. More than 20 teams competed for bragging rights.
Local Non-Profits like the Meadowlark Foundation receive the profits from the event.
"Its our favorite event to come to, great exposure for us and everybody is having a great time," said Meadowlark Foundation member Jayme Minton.
While most of the "booths" at the event were chili teams, members of the Meadowlark Foundation have found a way to become a staple of the event without making chili.
"We are becoming known as the team that doesn't bring chili. We bring cinnamon rolls! Its kinda like the chili school lunch with the cinnamon roll," Minton said. "That's kind of our deal now."
Co-Chair of the Young Trustees, Veronica Sims says the event is great for non-profits, not only because they receive all the proceeds from the event, but also because so many of them get good exposure.
"We support 45 different non-profits that get money from the Young Trustees in this event. All the proceeds from this event will be given back to the community," she said.
Sims tells KMAN she expects this year to be a great one in terms of the events growth,
"It just keeps getting bigger and bigger. This year we got lucky with the weather. I think things are just going to get better for us," she said.
In addition to the chili cook-off, there was also a half-K race, a hot pepper eating competition, as well as the K-State vs Texas Football game on a big screen.
For more information on the Manhattan Chili Cookoff or any of the nonprofits represented on Saturday, visit mhkchili.com.