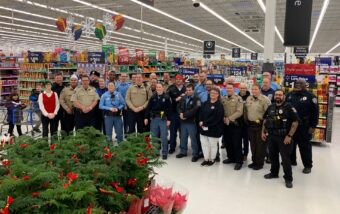 Area police departments brought Christmas a little early to about 85 kids this year for the 30th annual Cops N' Kids program.
Law-enforcement officers and staff from the Pottawatomie County Sheriff's Office, Riley County Police Department, St. Mary's Police Department, Wamego Police Department and K-State Police Department partnered up to take kids on shopping sprees at the Manhattan Wal-Mart this morning.
Each kid was partnered with a law-enforcement member and was allowed to pick out any items of their choice as long as it was within the budget, which was $100 for kids 9-years old and under and $125 for kids 10-years old and up.
Items selected ranged from art supplies to action figures to head phones.
Some kids even went home with brand-new bicycles.
Kids talking about their presents
Once each kid picked out their presents, they then got the chance to talk to the one and only Santa Claus.
Some of the officers helping out with the event were RCPD Director Dennis Butler, newly-elected Sheriff Shane Jager, and RCPD School Resource Officer Brian Swearingen.
While the kids sure seemed to have a lot of fun, Director Butler says the event can also be great for officers who regularly work in a difficult job.
Sheriff Jager says the event is also a good opportunity for officers to interact with local families.
Of this group, Officer Swearingen is the veteran of the Cops N' Kids program.
The Cops N' Kids program is paid for through funds given to the Fraternal Order of Police through No Shave November.
During No Shave November, police officers can pay $100 to be able to not shave for the entire month.
Over the years, citizens have also given money to the FOP to help fund the Cops N' Kids program.