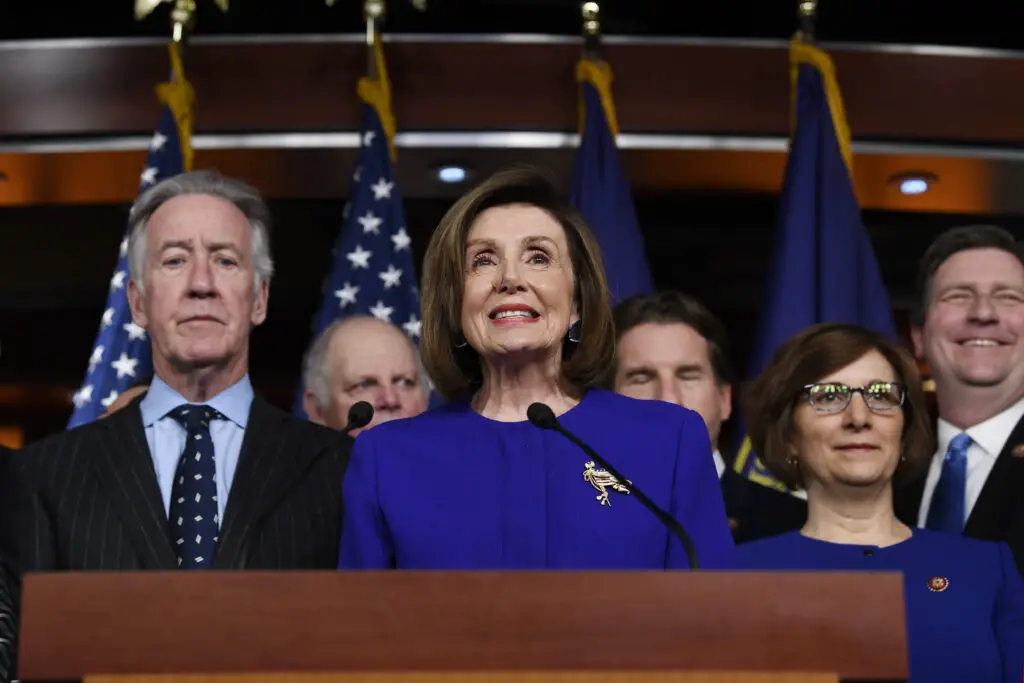 WASHINGTON (AP) — House Speaker Nancy Pelosi has announced agreement on a modified North American trade pact, handing President Donald Trump a major Capitol Hill win.
This comes on the same day that Democrats announced their impeachment charges against the president. Just before Pelosi announced her support, Trump said the revamped U.S.-Mexico-Canada Agreement will "be great" for the U.S. Pelosi says the revamped U.S.-Mexico-Canada Agreement is a significant improvement over the original North American Free Trade Agreement. In Mexico City,
The trade agreement, which had bipartisan support from Republicans and Democrats, would represent President Trump's primary legislative success if ratified. The new deal gets rid of controversial protections for biologic drugs entirely. It also involves monitoring provisions, such as the establishment of an interagency committee to monitor Mexican labor reform efforts.
Sen. Jerry Moran (R-Kan.) released the following statement after the announcement Tuesday.
"I have long advocated for movement on USMCA, and I applaud the White House and Congress for reaching an agreement today and advancing this deal. Canada and Mexico are Kansas' top two export markets, and over the last two years, I have heard directly from Kansans how vital a modern trade deal like USMCA would be for our farmers, ranchers and manufacturers to compete and succeed in the 21st Century economy. Now is the time to get USMCA across the finish line, and I urge the House to quickly bring USMCA up for a vote."
Sen. Pat Roberts (R-Kan.) also applauded the agreement.
"I am glad to see long awaited action on consideration of the United States-Mexico-Canada Agreement (USMCA). USMCA is critical for the success of our farmers, ranchers, producers and manufacturers who rely on trade to grow their businesses and create more jobs. I look forward to reviewing the final text of the agreement and working with my colleagues in the Senate to finalize this trade agreement," said Sen. Roberts.
Kansas 1st District Representative Roger Marshall (R-Kan.) praised the agreement in a statement Tuesday.
"Two years ago, I traveled to Mexico to negotiate on behalf of agriculture, because implementing this deal is so important to finally delivering a level playing field for Kansas farmers and producers. For the last year, passing USMCA has been my number one legislative priority. After sitting on Nancy Pelosi's desk for an entire year, President Trump and Congress will finally be able to deliver on this huge promise to the American people," said Dr. Marshall.
Marshall contends the agreement will result in thousands of new jobs for Kansans and hundreds of millions of dollars in Kansas exports.
Mexican Foreign Relations Secretary Marcelo Ebrard said that there would be a meeting of the three countries' negotiating teams Tuesday "to announce the advances achieved" on the trade agreement.