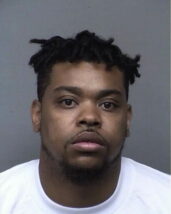 WICHITA, Kan. (AP) — A Wichita man who served as lookout while another man hog-tied a Sprint store clerk and stole more than 75 cell phones has been sentenced to nearly six years in prison.
Xavier Lopez, 26, was sentenced Thursday after he pleaded guilty in September to robbery. He admitted that he was lookout while 26-year-old Camarin McPherson, of Wichita, robbed the Sprint store on April 25.
McPherson tied up the clerk and brandished a handgun before taking 78 phones. The two men were arrested after their vehicle crashed during a police chase.
McPherson was sentenced in November to 13.5 years in prison