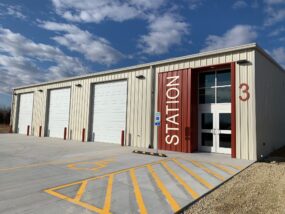 The Riley County Fire District #1's newest fire station was unveiled in Ogden with a ribbon cutting Friday morning.
Fire Station 3 will replace fire-fighting facilities that are over 50-years old and will provide crews with new space for training and emergency vehicles.
Pat Collins, the emergency-management director for Riley County, says the station will also help with recruiting new volunteers for the department.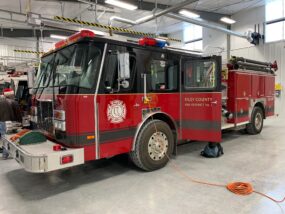 John Ford, a commissioner for Riley County, says the facility will also be beneficial for residents of Ogden.
This project, in addition to the construction of Fire Station 6 in Leonardville, was largely funded by a loan from the United States Department of Agriculture worth about $1.4 million that can be paid back over a 30-year period.
According to Dan Fischer, the USDA Rural Development Community Programs Director, the USDA currently has about $2.3 million eligible to 71 counties through its Community Facilities Program which can be used for similar projects, such as emergency-services facilities, medical facilities, community centers, city halls, emergency equipment and medical equipment among other items that are essential to the function of towns in rural areas.
Going forward, Riley County will look to build two more fire stations with one going in the University-Park area and the other in Ashland.