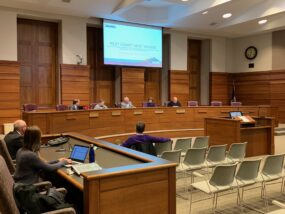 The Riley County Law Board has approved an increase in salary and benefits for Riley County Police Department Director Dennis Butler.
Butler's annual salary and benefits were raised from a total value of about $150,000 to about $157,000 as part of an annual performance review.
The decision came after a private meeting between Butler and members of the Law Board that lasted for over an hour.
During the meeting, Manhattan Mayor and Law Board Chair Mike Dodson shared his appreciation for the work Butler has done.
Butler returned the favor, sharing his appreciation for the board and his own staff.
Butler has about two years remaining in a three-year contract that was signed in December of 2018.