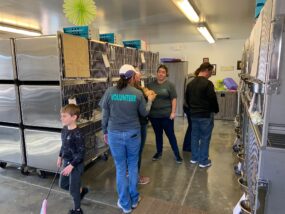 At the T. Russell Reitz Animal Shelter, animals with black fur tend to be overlooked by those looking to adopt.
The shelter's first-ever Black Furday event helped several of these animals, including 14 cats (10 with black fur), find forever homes,
This event allowed animals lovers to take any animal with black fur home for a reduced adoption fee of $25. The adoption fee is usually $141 for dogs and between $50 and $75 for cats.
Despite events like this, the need for animal adoptions through animal shelters is still great.
"There is a huge need for adoption," Hannah Shoemaker, a volunteer coordinator for the T. Russell Reitz Animal Shelter, said. "As you walk through shelters, you realize how many homeless animals there actually are. There's a surplus of animals and a shortage of homes, so we always push adoption over buying from a breeder. You can get kittens and puppies from a shelter the same you can from a breeder. So if that is what you're looking for, always check out your local shelter because that is still an option."
Adopting an animal from a shelter does require about 20 minutes of paperwork as well as two forms of I.D., but interaction with the animal is allowed before a decision is made.
There is also the potential for reduced costs when it comes to veterinary bills.
"They all come fully vetted," Shoemaker says. "So they've already been spayed and neutered, they've had all their vaccines, they've been de-wormed, all of our dogs have been microchipped and then (they receive) any other medications that they need when they come in."
The shelter has put on a number of other events like this one over the past year and has another one called Home for the Holidays coming up from Dec. 18th through Dec. 21st.
To see animals available for adoption at the T. Russell Reitz Animal Shelter, visit their Facebook page or cityofmhk.com.