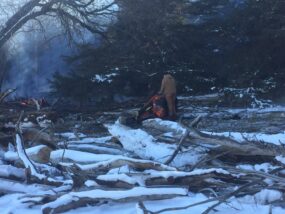 It was just earlier this year that Tuttle Creek State Park was closed to the public because of concerns about rising water levels in Tuttle Creek Reservoir.
Since then, the park has come a long way towards recovering and several features, such as trails and a boat ramp in the Cedar Ridge area, 12 utility-electric sites in the Fancy Creek area and several cabins, have returned to being accessible to the public.
Todd Lovin, the park manager of Tuttle Creek State Park, says there is still work to do, such as clearing debris left behind by flooding.
According to Lovin, the goal is to have debris cleared by January and to have the remainder of the utility-electric sites up and running by the end of January.
In other Tuttle Creek State Park news, there are a couple events happening over the next couple of weeks that will only cost the price of a vehicle permit and are open to people of all ages.
The first is a scavenger hunt called the Reindeer Race.
Lovin explains what this event will involve.
The winner of the Reindeer Race will receive one free stay in one of the park's cabins.
The first clue will be posted by next Monday at noon.
The second event is called The First Day Hike, which begins at 10:30 a.m. on New Years Day.
Participants will get to participate in a guided hike through Tuttle Creek State Park.
Lovin says The First Day Hike is a great way to start of the new year.
He also says the hike will offer plenty of nature sightings and maybe even a refreshment or two.
Participants are to meet at the state-park office and are encouraged to be prepared for any kind of weather.
In past First Day Hikes at Tuttle Creek State Park, the number of participants has ranged from 20 to 250 people.
In 2018, about 55,000 people cumulatively hiked approximately 133,000 miles in First Day Hikes in all 50 states.
For parking permit prices, visit ksoutdoors.com.