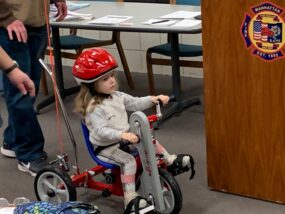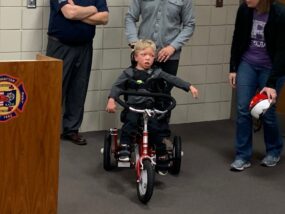 Faith Herrman, the 3-year-old daughter of Allison and Eric Herrman who has spina bifida, and Avery Pozarek, the 6-year-old son of Lindsey and Sean Pozarek who has cerebral palsy, are the proud new owners of Amtrykes, courtesy of the Noon Network AMBUCS organization out of Salina.
While the two kids sped around inside the fire station located on Denison Ave. on their shiny-new trikes that are designed specifically for people with physical disabilities, parents and members of AMBUCS gathered to watch the joyous moment.
"It was just a really neat experience," Allison Herrman, the mother of Faith Herrman, said, as she watched her daughter ride on her first Amtryke. "We've never seen her ride a bike before and never really seen her be that independent on something that's a pretty typical, sort of, toy for a child."
Amtrykes not only allow kids to participate in activities that other children are doing, but they also help them strengthen parts of their body that normally have limited mobility.
"We love it because it just lets him do what all the other kids are doing and he loves it," Lindsey Pozarek, the mother of Avery Pozarek, who is on his second Amtryke, said. "He loves going around the neighborhood and riding. It's so good for him, moving his legs and arms."
The ways in which Amtrykes differ from other tricycles depends on the users physical limits and may include fully strapped-in feet, modified handle bars or pedals powered by hands
According to Laura Munsch, the president of the Salina-chapter of AMBUCS, Amtrykes can cost $800-$1500 and are built and designed according to the specific needs of each user.
Candidates for the obtaining of an Amtryke from AMBUCS have typically been recommended by a physical or occupational therapist.
In addition to providing Amtrykes, AMBUCS provides other mobility equipment to people with physical disabilities, as well as scholarships to students pursuing occupational and physical therapy degrees.
While the Salina-chapter of AMBUCS is the nearest one in the area, there are currently efforts to establish one in Manhattan.
There are over 145 AMBUCS chaptes nationwide.
For more information about the Salina-chapter of AMBUCS, visit noonambucs.com.