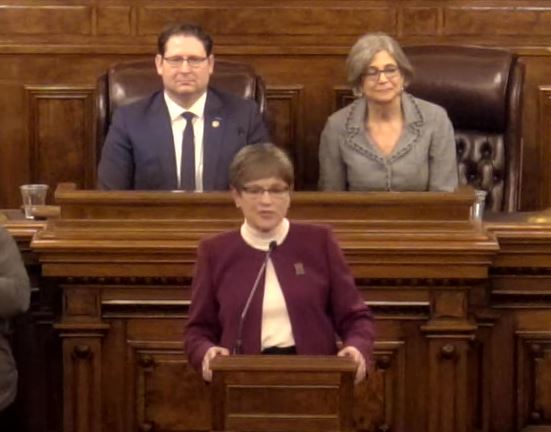 Gov. Laura Kelly outlined her agenda for the 2020 legislative session Wednesday during her second State of the State address.
That includes efforts to expand Medicaid and a food and property tax relief proposal. But she says she'll veto any tax bill that includes steep cuts or would hamper the state's ability to fund public schools.
"So I want to be clear: to protect our recovery, and to ensure Kansas does not repeat the mistakes of the last decade, I will veto any tax bill that comes to my desk that throws our state back into fiscal crisis, or debt, or sends us back to court for under-funding our schools.  I hope you won't stand for it either," she said.
Kelly touted the bipartisan proposal announced by she and Senator Jim Denning to expand Medicaid to over 130,000 lower income Kansans. She pointed to neighboring states that have also passed Medicaid expansion including Oklahoma, Nebraska and Missouri.
"When we do add this to our list of bipartisan accomplishments, it will not only save lives, it will close the book on a long, senseless, expensive political fight — making room to improve access to health care and grow the Kansas economy.  We are so close. Let's get this done," she said.
Kelly's agenda also includes a comprehensive transportation plan and criminal justice reform.
Video of her State of the State is below. Her speech begins at about the 32 minute mark.
Manhattan legislators respond following State of the State address
Manhattan area lawmakers were encouraged by Gov. Kelly's message Wednesday which included an opportunity to potentially lower property taxes and the sales tax on food.
67th District Rep. Tom Phillips says the idea behind the initiative to provide food sales tax relief is a good one, and one he supports, but cautions it would create a challenge in the state budget to make up that revenue.
"And I think what the idea there is to have a refund for low income households. So if you meet a certain threshold, at the end of the year, when filling out your taxes, you could apply for a refund," he said.
According to the governor's budget proposal it's estimated some 540,000 tax filers would claim $63 million in refundable food sales tax credits starting in fiscal year 2021.
The governor has also proposed property tax relief, which 66th District Rep. Sydney Carlin supports.
"Part of it is getting the local ad-valorem sales tax refund back to the counties and that's something that's been missing since 2003. We have some work to restore Kansas to its routine, regular, healthy state, but we are doing that," she said.
Riley County Commissioner reacts to governor's proposal on property tax relief
Governor Kelly has recommended 54 million dollars be put back into funding the local Local Ad-Valorem Tax Reduction Fund for fiscal year 2021.
Riley County Commissioner Ron Wells has been advocating for continued funding of the LAVTR for over three years. He received a message from State Senator Tom Hawk Thursday morning about the recent recommendation. He says he feels really good that progress is being made.
"This isn't going to raise taxes in the state. When the additional revenue comes into the state, this money, by statute has to reduce the mill levy on property taxes," he said.
Wells also thanked Sen. Hawk for getting him a meeting with the different people in the governor's office and helping to get the word out.
"It's very good news. Originally we didn't think there'd be any movement until 2023, so I'm hoping state revenues stay where they are and we start getting a little money back in Riley County," he said.
Wells says this potential funding could provide an additional $2 million that will help reduce the mill levy each year. The LAVTR transfer is distributed to local governments for property tax relief based on population – 65 percent, and valuation – 35 percent.
To read more on Gov. Kelly's full budget proposal click here.
Brandon Peoples and Sam Hennigh contributed to this story.