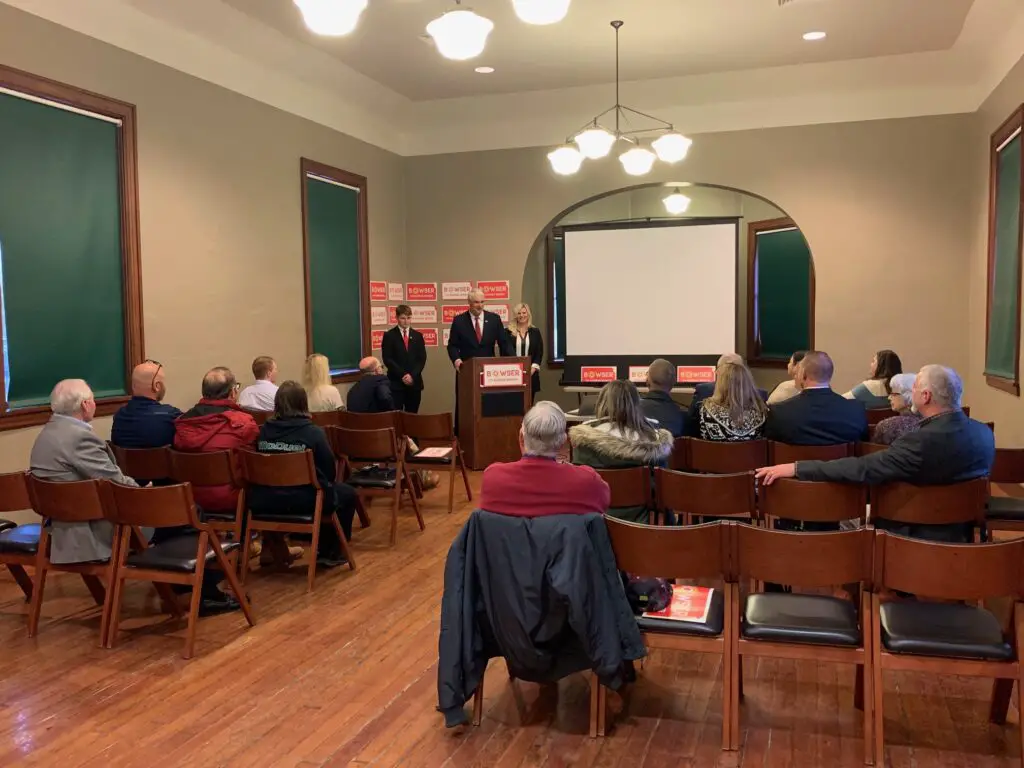 A crowd of about 20 people gathered at the Union Pacific Depot in downtown Manhattan Tuesday to watch as SAVE Farm Chief Executive Officer Craig Bowser officially announced his candidacy for the Kansas State Senate.
Bowser will be running as a Republican to represent the Manhattan-area 22nd district, which is currently represented by Democratic Senator Tom Hawk.
Here is Bowser on why he chose this location for his announcement.
During his announcement, Bowser, who was joined at the podium by his wife, Erin, and son, Gavin, emphasized agriculture as one of the pillars of his campaign.
He also talked about advocating for small businesses and military veterans, particularly in the areas of reducing veteran suicides and expanding educational opportunities.
Bowser describes himself as a Republican who is "fairly middle-of-the-road."
Among those in attendance were Manhattan City Commissioner Mike Dodson and Kansas House of Representatives member J.R. Claeys of the Salina-area 69th District.
Claeys has been working with Bowser for a few months and says he believes Bowser is a good fit for the 22nd District.
With this announcement, Bowser has put himself in a race that includes fellow-Republican Bryan Pruitt, who is a Wichita native who previously ran for the U.S. Senate before withdrawing from that race.
Bowser's background includes 24 years in the U.S. Army Reserves.
During his time in the military, Bowser served in Iraq where he helped bring about the country's first free elections.
The U.S. State Department awarded Bowser with the Meritorious Honor Award for his service.
Bowser also holds a Master's of Business Administration from Washburn University in Topeka and also holds a doctorate of strategic security.
Bowser currently serves on the Kansas Commission on Emergency Planning and Response where he was appointed by former-Gov. Jeff Colyer.
He is also currently the Chief Executive Officer of SAVE Farm, which is a nonprofit organization that helps military veterans transition to careers in agriculture.
The Bowser's have a farm near Holton and own a home in western Manhattan.
Craig's son, Gavin, is a freshman at Holton High School.