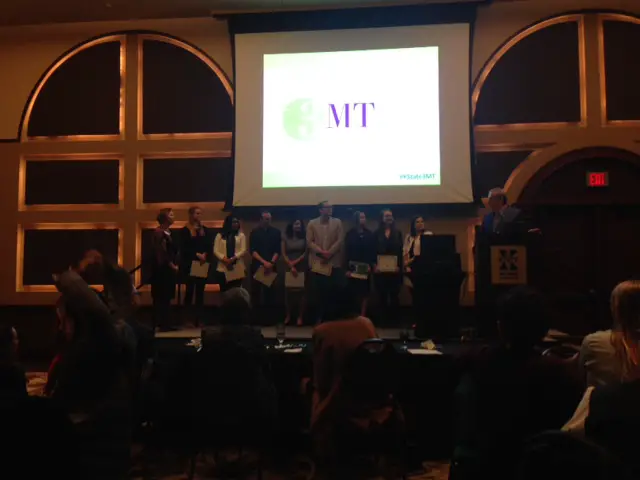 The K-State Graduate School hosted its annual 3MT competition Thursday at the K-State Alumni Center.
The competition was the final round following the previous competition held February 14. The competition consisted of eight graduate students from various areas of study at the K-State Graduate Schools, who each gave a 3-minute presentation on their research projects, which they have studied over the course of their graduate studies.

After all presentations were given, the panel of three judges selected a 1st and 2nd place winner. Members of the audience then got to vote on who they thought performed the best, and the winner of that vote won the People's Choice Award.
Cameron Osborne, a PhD student in the Entomology program at K-State won first place with his presentation on livestock pests. When deciding how to tackle formatting all his research in the required 3 minute format, Cameron decided to take a more narrative based approach.
"It comes down to telling a story, beginning, middle, and end. Trying to pick out the protagonist and antagonist. That's kind of where I start with it, working from there and make sure all the terms I am using are understandable to a general audience and making it as smooth a narrative as possible," he said.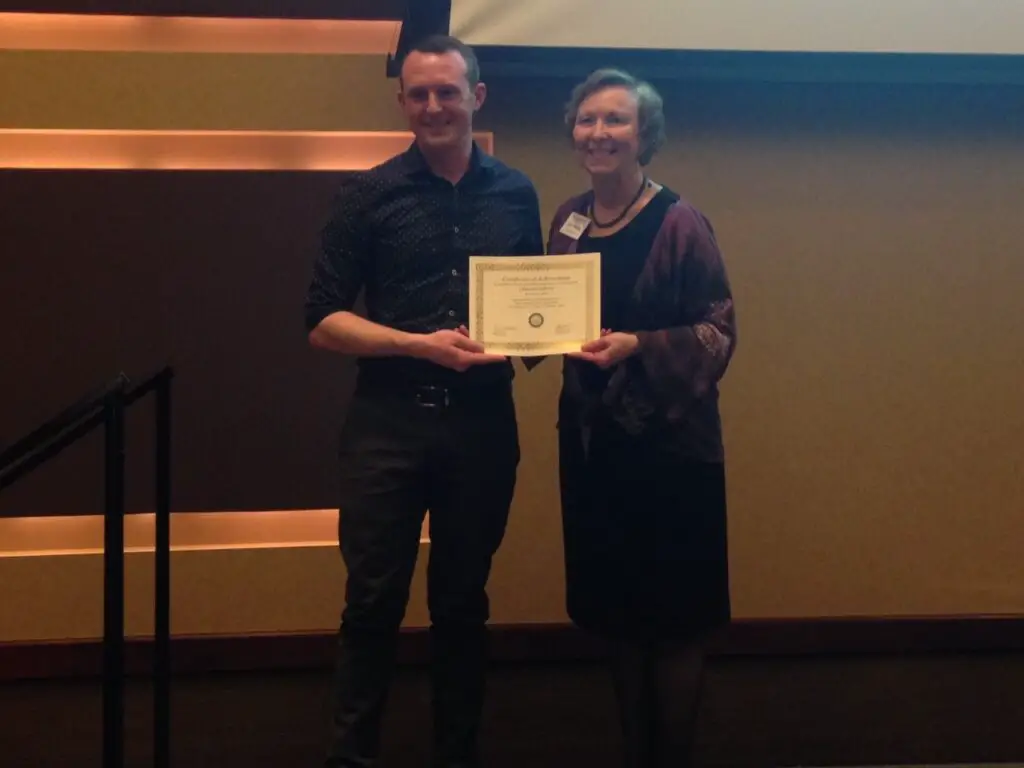 Participants were judged not only on their knowledge of the subject they were presenting on, but also in using good communication skills to educate the non-expert audience.
Osborne stated the 3-minute format of the competition is tough, but one of the most challenging aspects is making that the subject matter accessible to all audience members.
"Its getting out of your comfort zone, in the sciences. I have done some teaching and it is kind of the same idea, just trying to make something understandable and accessible to the most people possible. Definitely a challenge," he said.
Osborne stated that the Entomology program was crucial in his reasoning behind competing in the event.
"It (the competition) has been broadcast through the graduate school pretty extensively. They do a good job letting us know about these events. What is great about the Entomology department is that they really encourage us to attend all these kind of competitions," Osborne said.
Osborne noted that the competition was rewarding in the aspect that they get to bring their research to the public eye and try to appeal it to a mass audience.
"I think what is great about this is some of the things we work on are not well known. So bringing up some of the misunderstood or misconceptions about the insects we work with to the general audience that is easy to understand. Something they can take away with to talk with their families about," he said.
Research on insects may not be what everybody thinks of when they think of graduate school research, but to Osborne it is a unique and fun area of study.
"Given their size they are hard to study, it gives you some aspect of accomplishment to be able to study such a small insect, getting to work on them in the lab or dissecting them," he said.
Taking second place was Mikaela Rader, a graduate student in Geology, and Kristen Sikorsky, a graduate student in Horticulture and Natural Resources won the People's Choice Award.
In addition to winning a $500 Scholarship, Osborne will also be given a chance to represent K-State at the Midwestern Regional 3MT Competition in Milwaukee, Wisconsin in April.