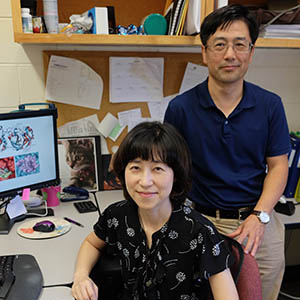 Kansas State University has licensed a technology that may lead to production of an antiviral drug to treat coronaviruses and noroviruses.
This comes as worldwide concern increases over the novel cornavirus outbreak, COVID-19. A release from the university Friday said two K-State College of Veterinary Medicine virologists, Yungeong Kim and Kyeong-Ok "KC" Chang along with Wichita State University medicinal chemist William Groutas have been using grants from the National Institutes of Health to work on human norovirus therapeutics. They recently received a $3.7 million grant to develop antiviral drugs to treat Middle East Respiratory Syndrome, better known as the MERS human coronavirus. Their work extends to other viruses with simila viral protease including, but not limited to the newly emerged COVID-19 that's been dominating world headlines.
Currently no antiviral drugs are available for human norovirus or coronaviruses, which includes COVID-19, MERS and the SARS virus.
The university said that may change as a result of a new license agreement between K-State and Cocrystal Pharma Inc., a clinical stage biotechnology company that is discovering and developing novel antiviral therapeutics in an effort to treat coronavirus and norovirus infections. Cocrystal intends to pursue research and development of these antiviral compounds, including preclinical and clinical development.
The research team of Chang and Kim have reportedly collaborated for years on the development of antiviral compounds to combat devastating viral diseases in humans and animals.
The licensing agreement was coordinated by K-State Innovation Partners, formerly known as the Kansas State University Research Foundation. Read more at k-state.edu.