The City of Manhattan is aiming for a summer start date for a streetscape revamp in Aggieville and commissioners are keen on a design option preferred by the Aggieville Business Association (ABA).
Commissioners Tuesday discussed a trio of options for major street and utility upgrades on 12th Street from Moro to Bluemont and Bluemont from 12th to Manhattan Avenue — roadways surrounding the site of the new Courtyard by Mariott hotel under construction. The project is among first components of a total $30 million in possible public improvements identified in Manhattan's Aggieville redevelopment plan.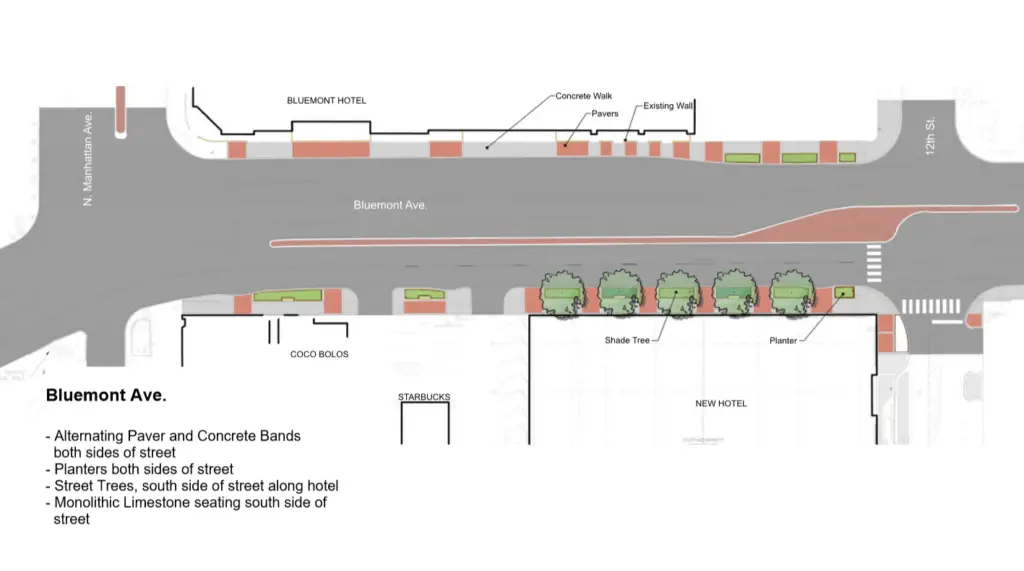 While no official vote was issued as the meeting was a work session, a majority of the commission voiced support for an option estimated at a price tag as high as $1.75 million. Commissioners were also open to removing from the plans sidewalk design improvements in front of the Bluemont Hotel — requested by its owner — which would save over $70,000 and reduce the overall project price to $1.68 million. Additionally, they agreed with administration's recommendation to go with McCownGordon Construction as the construction manager at risk for the work as they are already under contract for Aggieville projects such as the parking garage construction and Laramie Street upgrades.
The ABA and commission's preferred option on 12th was an "inverted crown" design that features brick pavers on walkways and roadways and a curbless transition from street to sidewalk. Drainage would be run down the center of the street and the roadway would have the potential to be shut down at the alley between Moro and Bluemont by bollards to create a pedestrian environment during special events. The west side of 12th would be dotted with trees while the east side would have overhead shading — with outdoor dining possible on either side. Brick and plant features would extend onto Bluemont.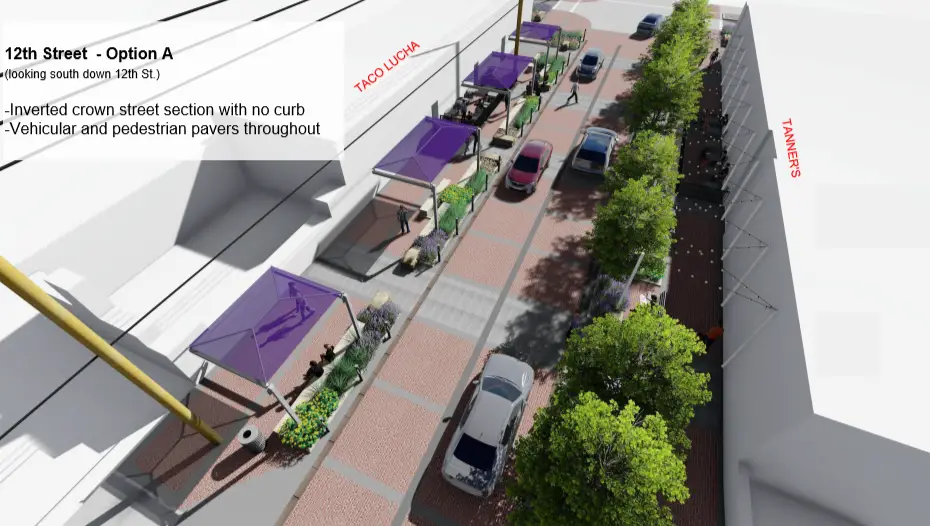 "It has a vibrant feel to it, that urban nature to it," says Mayor Usha Reddi. "More family-friendly as opposed to being a bar district, which we're trying to get away from."
ABA Executive Director Dennis Cook says the chosen design helps Aggieville in its goal to reinvent itself as a more pedestrian-oriented historic district.
"That gives us a real blueprint, a boiler plate for how we want to move forward," says Cook. "That's the look that we're after, that's the thing that changes the game for us down there in Aggieville."
Commissioner Mark Hatesohl says he'd like to see the curbless design extended throughout Aggieville incrementally, and advocated for retaining trees in the design.
"For the little bit extra it's going to cost, I would like us to keep the trees," says Hatesohl. "If we're going to try to make the place special, let's make the place special."
Commissioner Linda Morse, though, was more favorable of a 12th Street design that featured identical sidewalk components, but with a more traditional street design with curbs and gutters. That option came in at a slightly less expensive $1.65 million.
"I think it's wonderful to have such a setting, but we have concrete streets everywhere and we get by with them," says Morse.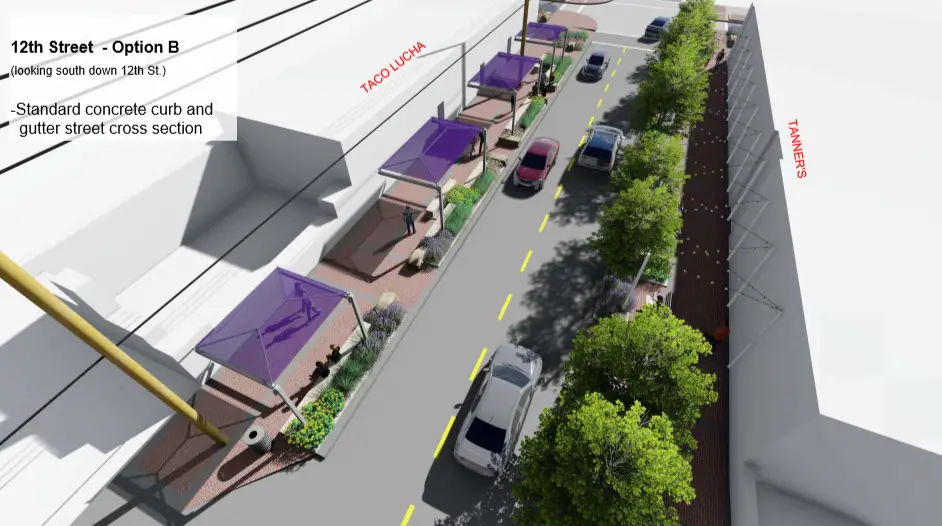 Commissioners also voiced unanimous support for the creation of a benefit district in Aggieville to assess 5 percent of the costs to benefiting property owners to help the funding picture. Approximately 8 or 9 property owners will be a part of this initial district, though this will increase if additional projects extend into other areas of Aggieville.
Hearing concern from residents about potential property tax impact to the city-at-large, Mayor Pro Tempore Wynn Butler wants to mitigate costs and says he thinks "it's essential that we do the benefit district." Morse agreed, noting that there are "special consideration" in the design that aren't typically present in Manhattan streets. Butler and fellow commissioners also urged administration to continue pursuing a possible $3 million in new market tax credits to further reduce potential property tax impact to the city.
---
Aggieville customers and business owners can expect to feel the impact of the construction, slated to begin this Summer.
During construction, Deputy City Manager Jason Hilgers says access points to businesses along 12th Street such as Taco Lucha may be impeded at times.
"We'll maintain access, but it won't always be on pavement," Hilgers told the commission. "They may be walking on temporary surfaces to get in and out of there."
In addition to pedestrian impacts, Hilgers says some businesses will lose street parking for periods of time — specifically noting Stickel's Cleaners.
"We're going to need to work with some adjacent properties and see if we can get some concurrence," says Hilgers. "There are stalls, whether it's the gas station, Rickel's."
The Alms Group's Cam Ward spoke during public comment Tuesday, requesting that city officials stay aware of the impact construction is having on Aggieville businesses.
"A couple bad months put people out of business," says Ward. "It's not just this thing you can throw a bandaid on and say OK, when that project is done we're going to have a beautiful district, they're going to thrive. A couple bad months, especially when students are gone, is significant."
Commissioner Aaron Estabrook thanked Ward for his comments and encouraged him to continue speaking up on issues.
"The collective sacrifice that's going to go into the business owners and the community as a whole as the construction would proceed is something we have to acknowledge and try to find ways to minimize."
City administration hopes to time their work in coordination with the hotel's construction to avoid extending the period the work will inconvenience district businesses and customers.