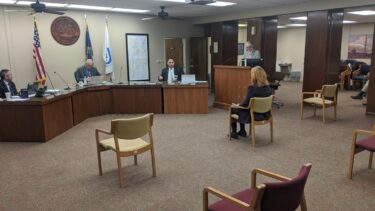 Riley County commissioners extended the local disaster emergency declaration to the end of the year.
The original declaration was issued on March 18 due to Gov. Laura Kelly's state of emergency declaration.  The declaration was in place for seven days, with the option to extend it.
County Counselor Clancy Holeman made the suggestion based on the unknown factors related to the virus.  Typically, the commission has extended these declarations by 30 days.  In the event the commission cannot meet to extend it, this extension guarantees it stays in place.
Holeman says the commission can end the declaration whenever they want as well. Having the declaration in place while the state of emergency is in place grants the county statewide planning for emergencies. The county can also claim reimbursements later on.
Commissioner John ford says this declaration isn't just for health, but for the economic impact as well.
The official end date of the declaration will be on December 31st, 2020. Holeman also suggested keeping this in place in the event the state does not extend its declaration.
Commissioners were also presented alternative options for their meetings.  IT/GIS Director Kevin Howser suggested four options for the commission; minute tracking video, Zoom audio, Zoom video, and Facebook Live.
The most expensive and time consuming option is minute tracking video.  Using the same company who minute tracks the meetings, the public can go back to specific minutes in the meeting. County Clerk Rich Vargo says this option means everything the commissioners say will be recorded as official minutes.
The county also has a license with Zoom for both audio and video options.  The audio option allows up to 100 people in the call and the public can join using their phone.  The drawback is the call is centered out of state, so there will be long distance calling on landlines.
With Zoom audio, a camera can be setup in front of the commission.  As with the audio call, 100 people can be in the meeting.  The costs for this are minimal since the county already has the equipment.
The cheapest option would be to stream the meeting via Facebook live. All that would be required for this method is set up a computer or phone in front of the commissioners.
No decision was made on the alternative options.  Commissioner John Ford says while they made need these in the future, right now isn't the best time to make the actual change.