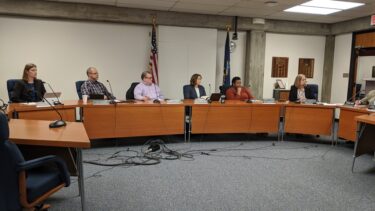 (This is a developing story and will be updated)
Update: 3/13/20 5:15 pm
Teachers are able to report to work on Monday, but are advised not to bring children.
Original story:
There will be no classes for USD 383 Manhattan/Ogden students for at least the next two weeks.
The district on Friday announced a mandatory closure of all district schools until March 30.  The 14-day mandate came from the Riley County Health Department.  It applies to all athletic and school related activities in addition to classes.
Health Department Director Julie Gibbs and Emergency Preparedness Coordinator Andrew Adams were present to inform the board on the decision.  Adams read from the guidelines to prevent pandemic situations.  These were created after the H1N1, or swine flu, pandemic. The guidelines state closing schools preemptively will be more effective than a reactive closure.
"Reactive likely means there has already been that transmission going throughout the buildings," says Adams.
The board asked Gibbs her recommendation, to which she said they should shut down the schools.  Assistant Superintendent Eric Reid asked Gibbs if this recommendation was voluntary for the district or if this was an order from the department.  The reasoning behind this is due to the recent decision made by the Kansas Commissioner of Education.  If they are ordered to shut down, then they can be eligible for a waiver to not make up missed days.  Gibbs responded saying this was an order to shut down the schools.
The board had hoped spring break would have counted for one of the two weeks.  However, Gibbs decided on the additional two weeks saying there is just to much unknown about the previous week.
Gibbs says Manhattan is unique because of the Fort Riley and Kansas State University.  This causes more travel between the two agencies running up the risk more.
Since the schools are in a forced shut down, the free meals program will still be able to operate.  The cafeterias will not be open, but they will have sack lunches that include breakfast for the next day available.  More information on times and days have not yet been released.
Other issues brought up include paying employees, online classes, special education, and state testing.  More on these topics will be brought up during Wednesday's school board meeting.
Board Member Katrina Lewison says since there is no precedent for this type of case yet, they need to be the leaders for future board members.
Board President Karla Hagemeister thanked everyone in the district and staff while they make it through this time.
"Going forward I want it to be known this is done for public safety, for the safety of our students, and the safety of are families and that includes our staff," says Hagemeister.
Superintendent Marvin Wade wants the public to not treat this like a vacation and take it seriously.  If people are going out and not following safe guidelines, then that defeats the purpose of the closure.
"This is a situation that is new to our community.  People are going to be making decisions for the best interest of the community and we understand that," Hagemeister says, "We need to have grace for each other, be kind to each other, look out for each other, and know that nobody is perfect nor any decision is perfect."
Wade says they will remain in continuous regular contact with the health department over the next two weeks.
The district has not said yet what it plans to do in terms of paying employees who will be impacted. District officials are reportedly working on a plan to help mitigate the financial impact to classified staff.
Earlier Friday, USD 475 Geary County Schools announced it will be closed March 16-20, with classes resuming March 23.