Kansas State University continues to take steps in the right direction for diversity.
On Wednesday night, students and faculty from many different backgrounds gathered at the newly constructed Morris Family Multicultural Student Center for a student dedication ceremony.
Representatives from the Native American Student Body shared more about the smudging ceremony they dedicated to the center. The Asian American Student Union Representatives gave gifts of a money tree; a broom, representing a fresh start; as well as lucky bamboo. Sadine Hoff, AASU Vice President External, says the lucky bamboo represents more than just the five elements.
"It also encompasses balance, power, peace, and harmony and to place the lucky bamboo in a space brings success," Hoff adds. "So that is what we hope to do with it."
Later in the ceremony, the Hispanic American Leadership Organization shared bread and salt as part of their cultural start in a new home. The African Student Union and the Black Student Union presented a libation ceremony. Black Student Union member, Alyssa Harris, shared a libation in honor of the BSU organization.
"For over 51 years this organization has been responsible for ensuring that black students on this campus strive for academic excellence, implement political action, demonstrate the leadership of students, while promoting black culture across all aspects of life."
The blessings and gifts from each group will be a part of the new student center.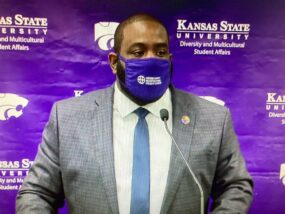 Trumanue Lindsey, Director of Diversity and Multicultural Life at Kansas State, says that as part of the new center they also have created a logo to represent what the student center stands for- unity and diversity. He talks more about the meaning behind using a circle as the base of the logo.
"Community, friendship, love, stability, and then that word unity," Lindsey says. "When you think about a circle it continues to go, it never ends."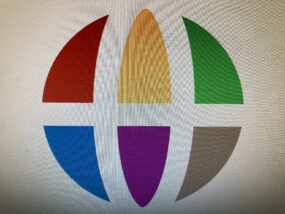 Lindsey says the different colors throughout the logo also have different meanings. He says blue represents inspiration, red represents passion, green stands for growth and new beginnings, yellow stands for happiness or hope, and the purple stands for Kansas State University. He adds that the globe like structure of the logo represents open-mindedness.
"We are all different. We all come from different walks of life. Our experiences have been different and our experiences will probably continue to be different. But then we also want to encourage each and every person that ventures into this space to actively seek and understand our own individual places in this world."
A new building that represents so much as to what Kansas State stands for. Adrian Rodriguez, Associate Vice President for Student Life of diversity and Multicultural Affairs, says the building is great, but is just a start.
"A building does not solve all of our problem," Rodriguez adds. "We see that pouring out and playing out across the national landscape. There are social and racial divides that exist today and we here in Manhattan and Kansas State University, we experience it, our students experience it."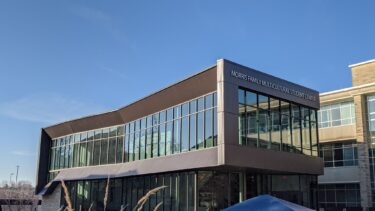 Rodriguez talks more about the importance of the Morris Family Student Multicultural Student Center.
"A place where we can come together, and work together, and learn from each other, and tell our story. That is the power and the beauty of the Morris Family Multicultural Student Center," Rodriguez adds.
Rodriguez adds that the focus now moves to the use of the building and continuing to strive for diversity and inclusion.