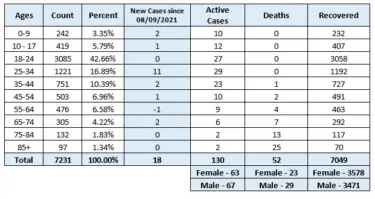 Eighteen new coronavirus cases in Riley County since Monday have brought the total of people infected with one of the CDC-labeled variants of concern to 100 going back to December.
There are currently 130 active cases of coronavirus according to the Riley County Health Department, which says nine people are currently hospitalized.
Four of those patients are being treated in Ascension Via Christi's intensive care unit.
Capacity issues have resulted in some needing treatment for COVID-19 to be transferred from Riley County to other hospitals in the Midwest, according to the health department.
According to one hospital official Wednesday, the state running seven day average is now 87 new COVID admissions per day in Kansas. With a 5-7 day length of stay (assuming no time in the ICU), Kansas COVID patients are now occupying over 500 hospital beds per day.
The hosptial says it's a growing concern not just locally, but across the state.
The department will be holding two vaccine clinics this weekend. The first will be between 1 p.m. and 5 p.m. on Saturday at Manhattan Town Center. The second will be at Little Apple Brewing in Westloop Sunday between 12:30 p.m. and 2:30 p.m. Gift cards will be distributed to those who get vaccinated at either event.