Plaza West redevelopment discussions were brought back to the table with city commissioners at a Tuesday work session. .
The project would focus on bringing retail, multifamily housing, and hospitality to the Plaza West area. Commissioners previously met on the topic in July and expressed concerns with the areas floodplain. The area flooded during the 2018 flood of Wildcat Creek.
Stantec Consulting Services presented studies during the work session Tuesday, and Wendy Van Duyne, area and landscape architect, said flooding concerns reshaped their ideas for development, stating the area still needs to be looked at as it is an underutilized area perfect for growth.
"To better address and protect this site from future flooding events, it will be important to concentrate development activity close to Anderson Avenue, decrease the amount of concrete on the site to better absorb stormwater, and construct new buildings that can better withstand the impacts of flooding or are elevated to reduce the likelihood of damages from flooding."
Within the presentation, Stantec presented several options for both potential infill of the area as well as how to handle the buildings currently there. The first is that the two current buildings remain on site which means the flood impact remains. Secondly, the two buildings are replaced with two new buildings which decreases impervious area by 26% and lessens flood impact. Finally, the third option included removal of the two existing buildings which would mean other structures would be higher to make up for square footage. This option would also provide a large green space and potential for outdoor venues such as an amphitheater.
In addressing the floodplain concerns, Stantec presented information on their in-depth flood modeling and how the rest of the area could be impacted by such a development. They noted that it will be important to concentrate redevelopment at the highest portions of the site, outside of the floodplain (along Anderson Avenue) and consider bringing in modest amounts of fill to bring other portions of the site above floodplain elevation.
Stantec presented information on the impacts of partial earthwork fill, intermediate earthwork fill, and full earthwork fill, stating that full earthwork fill would be the worst case scenario. During public comment, former Riley County commissioner, Ron Wells, said to even consider full infill was crazy.
"I think that any fill, whatsoever, shouldn't even be considered. We shouldn't waste the time and money because it's going to impact someone up stream because it's there at the top of the wall. It's going to impact me, it's going to impact my tenant and it's going to cause a lot of problems."
Current commissioners did not comment in favor or against the infill, however commissioner Usha Reddi said if this project happens, flooding has to be a top priority.
"Flooding is the major issue, and making sure we're not sending the water somewhere else and causing a problem there. And the road is going to change, Seth Child intersection is definitely going to change, so that's also going to be a long term conversation as we look at developing that area. I think it needs to be developed. I think we all feel it's an eyesore every time we drive by it, and we want more there, but the thing that stops us is the flooding piece of it."
Commissioner, Mark Hatesohl, questioned how much this is a project the city should even be involved in.
"Potential city involvement, we are not even anywhere close to doing anything with this. It boils down to the landowner, the property owner, gobbling up as much land as he can and then coming forward with some bright idea. We're not the ones pushing a redevelopment project or idea at this point."
Mayor Wynn Butler said he wouldn't expect the city to do too much unless they get proposals from the landowners on how to develop it.
"I agree with Mark. I think we are way ahead. I said that before in coordination meetings, and to me, this is a private business thing to develop and not something the city should be pushing."
Jason Hilgers, Deputy City Manager, argued that while the city might not be directly involved with the redevelopment piece, they will still be impacted due to road work.
"The other piece of this is Anderson Avenue, and Wreath Avenue, and Seth Child Corridor, all of which are part of that Seth Child Corridor study we conducted a few years ago with KDOT. That master plan for that corridor addresses that bridge that goes underneath Anderson and Seth Child, but it also goes all the way to Wreath. There are multiple access points that come into this site, so, city will be involved regardless."
Stantec also took roadways into consideration in their study and stated that the Anderson Avenue improvements must be further defined before determining the final development approach. With that, they also introduced the opportunity of a controlled intersection at Wreath Avenue.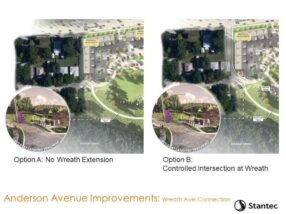 Stantec presented two options for the intersection, with the first option extending the internal drive of the site into the existing cul-de-sac at State Street. This option maintains the existing residential properties as they area, but may also limit the accessibility into the Plaza West. The second option presented introduces a controlled intersection to extend Wreath into the Plaza West site, but also impacts the two existing residential properties in the area.
Stantec did not outwardly endorse either of the options, but instead proposed them for as considerations for conversation as the area continues to evolve over the years.
To learn more about the Plaza West Areawide Study, visit engagemhk.org/plaza-west-area-wide-study.