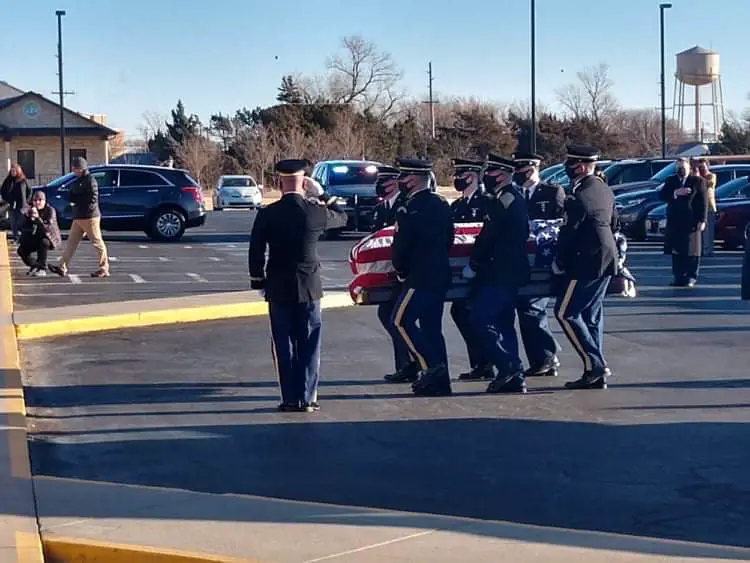 The community of Russell and Kansas said their final goodbyes to the late Senator Bob Dole over the weekend.
Kansas leaders and politicians were at the service to say their last goodbyes to Dole as well.  Governor Laura Kelly started her speech thanking current and former Kansas senators, saying they are following in the foot prints of Dole.
She recalled Dole's visits to Kansas when around eight years ago, where he traveled to every Kansas county.
Kelly says it is hard to imagine a Kansas without Dole and one she wouldn't want to see. She adds Dole never forgot where he came from and Kansas is what inspired him to believe in the best tomorrows.
Former Senator Pat Roberts was there to speak about Dole, not only as a politician, but as a friend.
Roberts recalled the times Dole looked out for his fellow Kansans at the national level, like when the EPA stopped wheat harvesting in the middle of harvest. He talked about a special map of Kansas he had given Dole; a map of all the Dairy Queens he had visited in the state.
Senator Roger Marshall in his speech says Dole never lost sight of his values that were forged living in Russell.
Marshall recalled when Dole stood up from his wheelchair to salute former President George H. W. Bush at his funeral service. He says Dole didn't understand what the big deal was; he just wanted to honor a fellow veteran and public servant.
Marshall says he is going to miss his friend.
Marshall says Kansas and its communities will continue to hold up Dole and surround him with love and friendship.
Senator Jerry Moran says, in an emotion filled speech, Dole was not only beloved by his colleagues at the US Capitol, but the staff who worked there as well.
Dole was the first US senator Moran had ever met and had been in awe of him for the past 52 years. Not only did Moran know Dole personally, but heard from all the Kansans who looked up to him and what he meant to them.
In addition to his service in World War II, Moran says Dole's character developed due to his upbringing in Kansas.
Before making his way back home, Dole's remained were taken to the US Capitol. He is only the second Kansan to do so, the other being former President Dwight Eisenhower.
(Audio from the service courtesy of Erik Stone – KRSL)