A long-time Manhattan philanthropist says it was a 'joy' to be recognized for their contributions to fitness in Kansas by a state council Thursday.
C. Clyde Jones was selected as an honorable mention for the 2022 Kansas Health Champions Awards, accepting the award remotely as part of the Community Health Promotion Summit. Topeka's Mike Goodwin took home the individual health champion award. On the organizational side, Colby United Methodist Church were honorable mentions while Wichita's Salud + Bienestar received the organizational health champion award.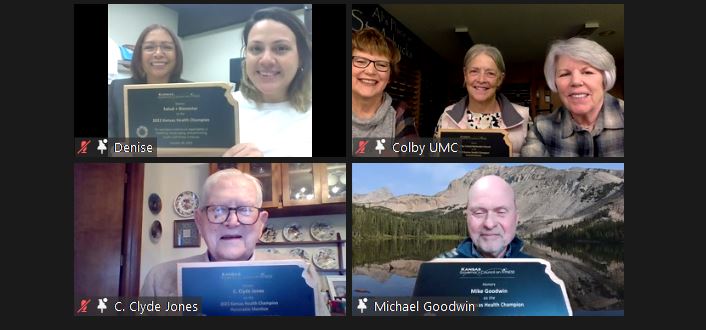 "Congratulations to this year's Health Champions," said Janet Stanek, Acting KDHE Secretary. "We thank you for the work you have done across Kansas to promote the importance of fitness in your communities."
Implemented by the Governor's Council on Fitness, the awards honor individuals and organizations that support and promote physical activity, good nutrition and healthy habits. Nominees were scored in five different areas.
"The first is going above and beyond what is expected through normal job or organizational responsibilities to model, encourage and promote health and fitness," says awards committee co-chair Candice McField. "The second way or area is doing work that helps overcome health disparities, leading to sedentary lifestyles and/or under nourishment. The third area is breadth and scope of influence. And next we have sustainability of activities that we look at and finally having a lasting and measurable impact related to improving health and fitness."
Jones was nominated for the award by Connie Satzler, who highlighted her reasons for putting the 99-year-old's name forward for the award in a video debuted during the virtual ceremony. Satzler says K-State's first College of Business Administration dean has been committed to community service ever since his retirement in 1987, and promotes health and wellness through initiatives of his such as the C. Clyde Run now in its tenth year.
"In addition to promoting physical activity, the run raises nearly $20,000 each year benefiting Shepherds Crossing," says Satzler. "This local organization launched in 2001 and Clyde became involved that first year. Currently, he serves as its development officer.
"Shepherds Crossing helps as many as 1,700 households annually with assistance, as well as nutritional and financial counseling. Clyde encourages physical activity by setting an example and by promoting participation in the annual C. Clyde Run, talking it up on social media and inter-personally with friends and colleagues in the months and weeks leading up to and afterwards."
Jones was gracious in accepting the honor, also sharing wisdom on important practices that keep him healthy and well of mind and body.
"What I try to do is say socially active and to involve my body in some kind of activity on a regular basis," Jones says. "The social activity, I think, is the savior of my mental health. I know [it's] a fact that if I just sat in my recliner and watched television, I might not even be here today. So I deliberately stay socially active, I meet new people and have people to my home for dinner and just simply love involving myself with other people.
"On the physical side, four years ago, I got involved with a personal trainer and I have continued to use that individual two to three days a week to make certain I keep exercising. Right now I am with physical therapy because of having had a bad bout with COVID-19 in December, so I'm not using my trainer while I'm in physical therapy. But this old body gets kind of sore and tired when they work me pretty hard, but oh my goodness I'm so grateful to still be alive and kicking."
McField called Jones inspirational and an exceptional role model. Goodwin also remarked that he wishes he can be like Clyde 'when he grows up.'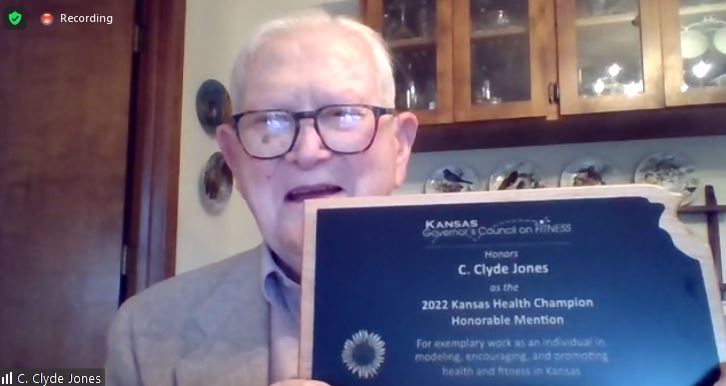 The summit continued with a panel featuring the Kansas Health Champions Awards honorees, officiated by Jared Tremblay of the Flint Hills Metropolitan Planning Organization.