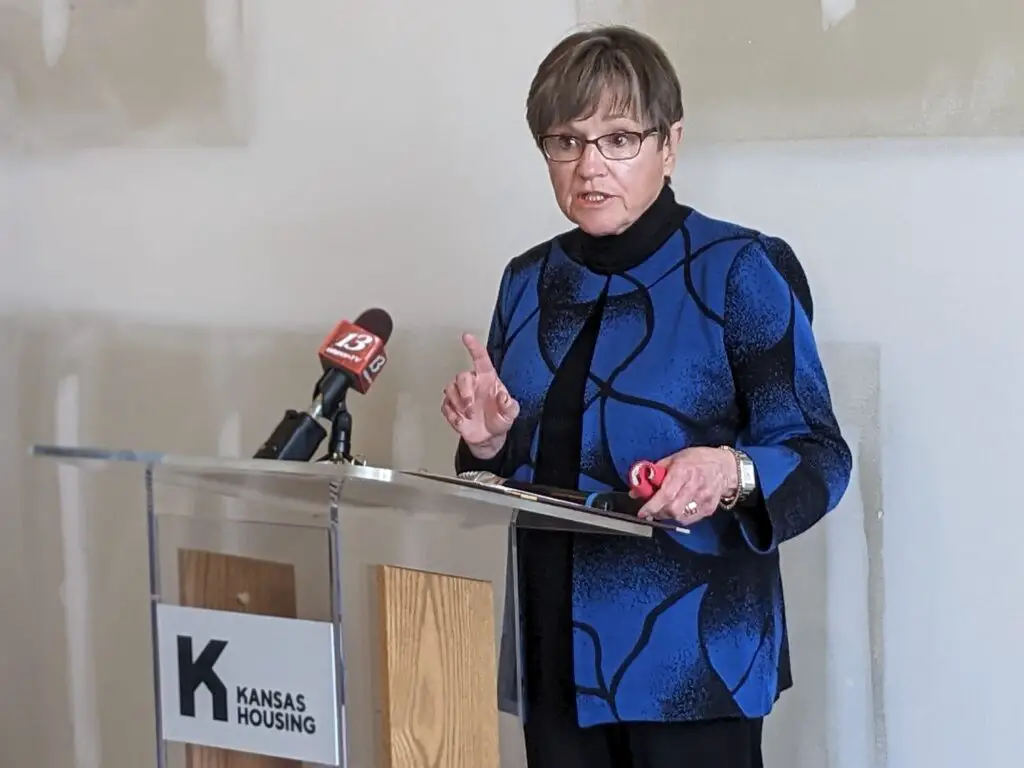 Gov. Laura Kelly discussed her budget proposal to boost state funding for moderate income housing support, calling it a 'down payment on the future of our state' during a Monday stop in Alma.
Kelly toured living spaces developed from funds provided by grants and loans from the state Moderate Income Housing Program that afternoon, which she has proposed be allocated an additional $20 million in Kansas' budget.
"The ability to take a building like this and to be able to refurbish it for a different purpose," says Kelly. "But one that will bring people into the downtown area and […] help the Main Street retailers — it all works together and this is what rural Kansas needs."
Kelly says the need was highlighted by the state's recent housing study, which she says has provided the state with the ability to 'develop data-driving solutions to affordable housing' for moderate earners.
Kelly noted the amount of private investment and new business activity in Kansas of late, calling it 'record-breaking,' though saying the state won't be in the position to capitalize on it without addressing moderate income housing stock.
"Together, we'll develop an approach to providing Kansas with decent, safe, accessible, affordable, and awesome housing just like this," says Kelly.
"And we'll make sure that as much as we're providing jobs to everyone in Kansas, we're also giving those same folks an affordable place to live."
The Moderate Income Housing Program is administered by the Kansas Housing Resources Corporation. In budgets prior to the proposed, the MIHP received funding to the tune of $2 million per year. KHRP Executive Director Ryan Vincent says they aim to address the needs of Kansas 'that make too much for these low-income housing programs, but they don't make enough to pay the rent.'
"These are Kansans that we need in our communities," Vincent says. "These are our police officers and our firefighters, or our teachers and healthcare workers and until we can come up with some solutions for how to help them manage the […] housing market, only then can we bring real jobs and real economic success — real homes — for our Kansans."
Vincent says the KHRP leverages $6 for every $1 of state funds it uses in order to finances developments such as that of Alma's Limerick building, where Kelly made her remarks. The historic 1890 building previously homed a bank and a skating rink, and is being transformed to include seven apartment units as well as an office space and vendors at the street level.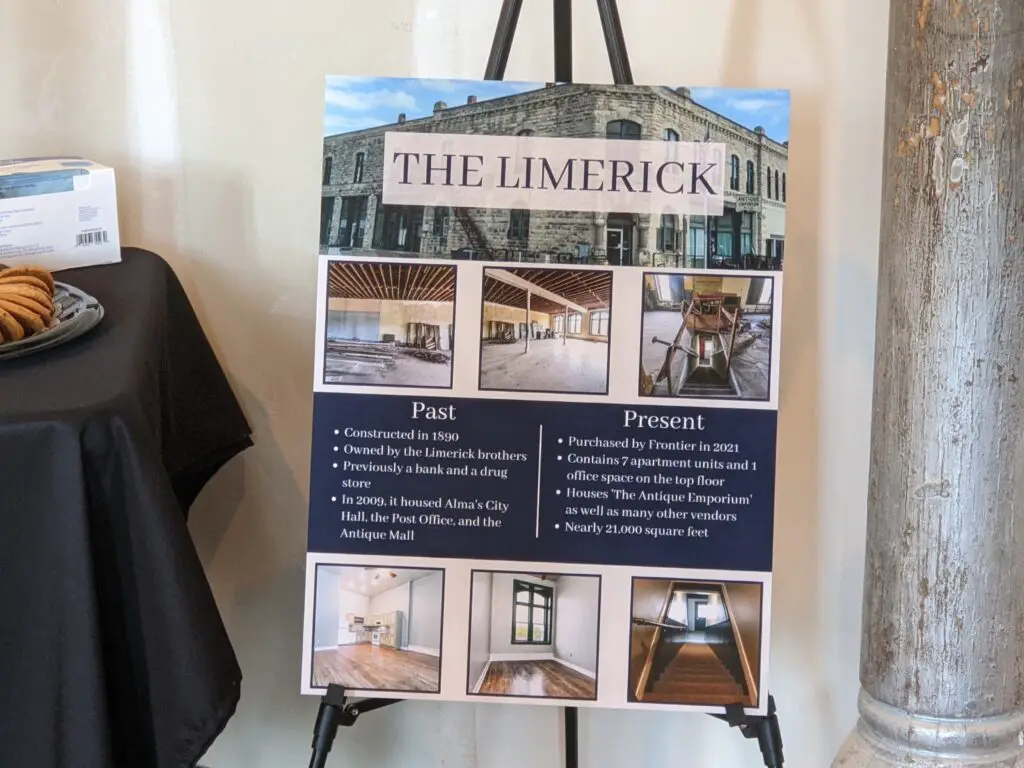 "I'm thrilled to be talking about housing and homes and the memories that they encompass, but I'm even more excited to see what tomorrow can bring," says Vincent. "As we can replicate this model around the state with more funding, with more partners, and to be celebrating these types of moments and memories with you all."
State Sen. Tom Hawk (D-Manhattan) was in attendance, thanking the governor for supporting the KHRP budget.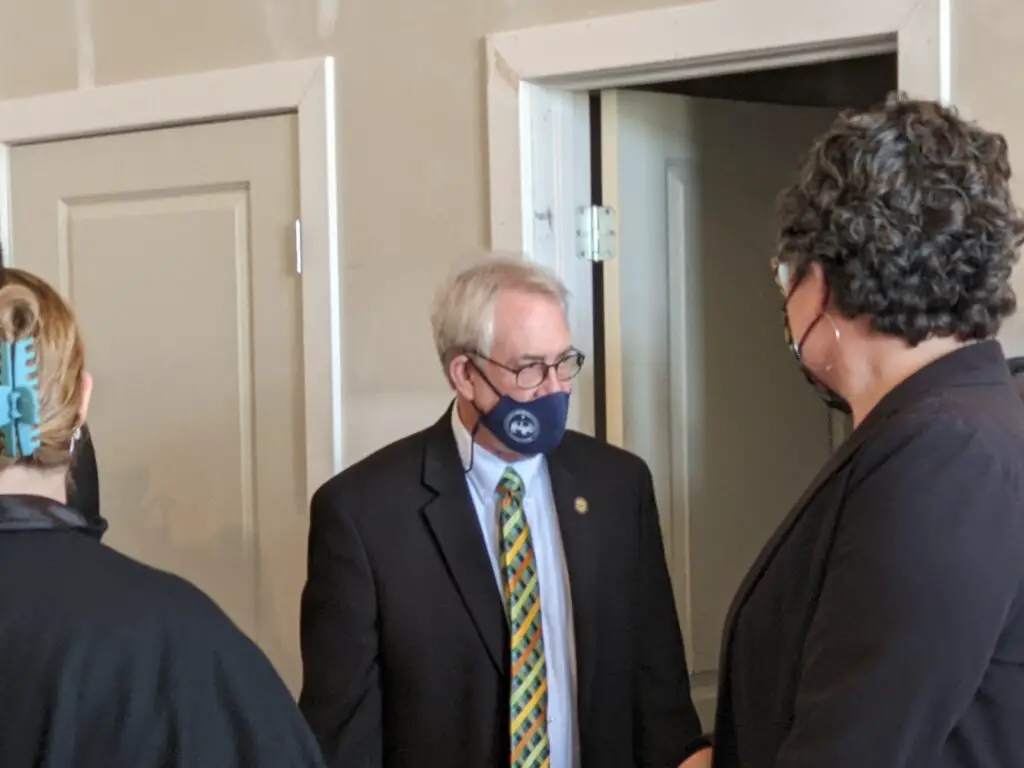 "I don't think any governor in recent history since I've been in the legislature has made housing the kind of priority you have," says Hawk. "I think that's a real need for us to keep young people in Kansas and to build on the economic prosperity you've already [accomplished]."
Kelly jokingly retorted for Hawk to 'make sure it gets through' the legislature.