A familiar face will fill in as the director of the Riley County Police Department following the retirement of its current director.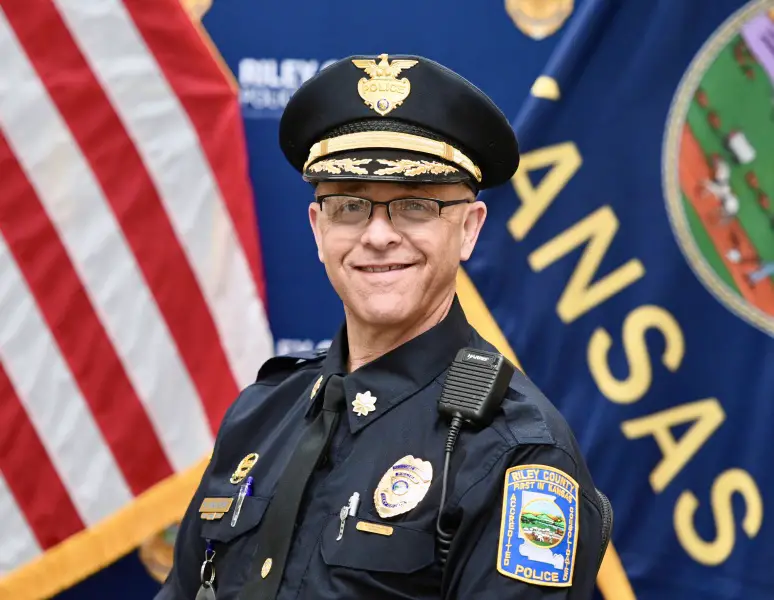 Current Asst. Director Kurt Moldrup was offered and accepted a contract as interim director following a unanimous vote of the Riley County Law Enforcement Agency board Monday afternoon. Moldrup will take over for outgoing Director Dennis Butler following his effective retirement date on February 1, 2022.
"Appreciate your willingness to step in and fill the position," says Law Board chair Linda Morse of the 37-year RCPD veteran. "We need that continuity, so thank you."
Moldrup, a long-tenured officer employed by RCPD since 1985, was promoted from captain to interim asst. director in 2018 under former Director Brad Schoen in 2018. The move was made permanent in 2019 under Director Butler.
"He took over a very good department and he did a very good job at being out at the public and communicating with everyone," Moldrup says of Butler. "He took the time to mentor me and he kept me informed of things he was doing and why — I think we had a good relationship."
As Butler steps out, Moldrup will do double-duty and continue to fulfill the responsibilities of asst. director while in his interim role. He says the additional work will require some collaboration among the command staff team, saying to expect the director to be a little less visible in the community for the time being.
"The director was very involved in going to community meetings," Moldrup says. "And I think that's important, [but]that'll be difficult for me in my new role.
"I will do some of that, but that will be difficult because obviously my priority is to run the day-to-day operations at the police department."
Moldrup says he anticipates community engagement will remain a major priority of the future permanent RCPD director and that the law board will expect such commitments of any candidates.
The board still has to settle on a selection process, which will impact the time period before a permanent director is hired. Moldrup is prepared for the selection to take "a good eight months or so."
While Moldrup says he believes he's the right person for the interim job, he's not interested in taking over the position on a permanent basis.
"I will not be putting my hat in the ring to be the director," he says. "I enjoy being the asst. director and I'm willing to continue to serve in that role — assuming that the new director wants to retain me, that's his decision or her decision."