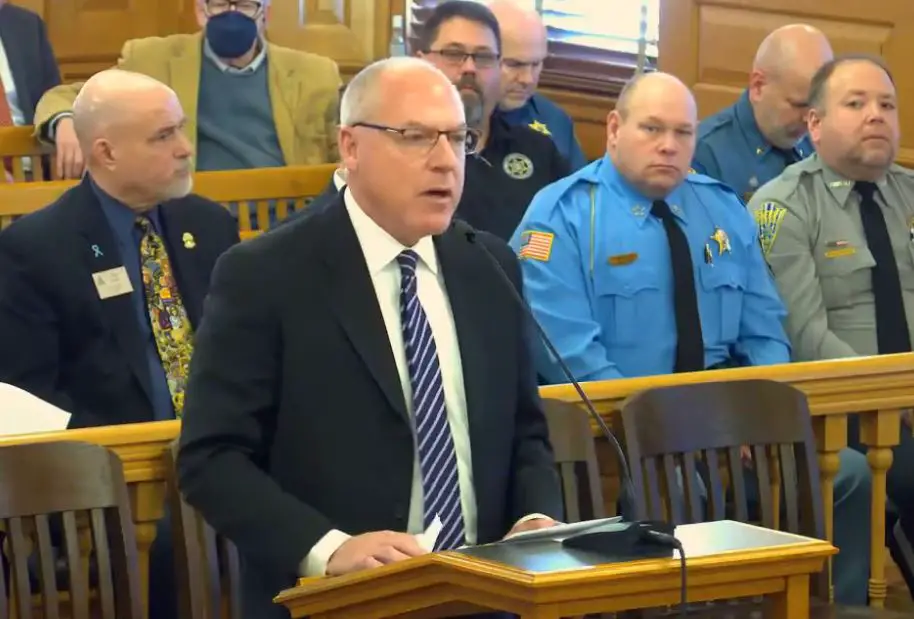 Riley County commissioners are keeping a close eye on a house concurrent resolution in the Kansas Legislature.
HRC 5022 proposes a constitutional amendment requiring that a sheriff be elected in each county. The resolution was proposed in response to a few counties in Kansas switching to all appointed personnel. County Counselor Clancy Holeman says Riley County could be the only county to fall under an exemption.
"If this bill passed we'd have a very good argument at least because it doesn't say Riley County is exempt. It says that any county that abolished the office of sheriff prior to Jan. 1, 2021, as long as it did that would be excluded here, which looks like it's only us," he said.
Holeman says while the resolution in its current form could exclude Riley County, it has the potential to evolve and eventually remove that exemption, once it were to leave committee. Commissioner Kathryn Focke didn't like the idea of taking away the choice of the local government.
"I don't understand why this committee would want to put into the constitution that the local governments cannot determine whether they want a sheriff or not. So it's not just about elect or appoint, it's taking away from the counties, the option to do that," she said.
Commissioners agreed they would keep an eye on the bill without taking a stance yet. Both Holeman and RCPD Director Dennis Butler, as well as 67th District State Rep. Mike Dodson provided testimony Thursday before the House Federal and State Affairs Committee. Butler shared concerns RCPD has in response.
"Having been on the legislative committee for so long, we often see bills introduced that don't end up that way when it finally is passed and that is their concern. Although the date would preserve the Riley County Police Department as it exists now, if this passes out of committee that could be removed," he said.
Riley County citizens voted to abolish the sheriff's office and other law enforcement agencies in the county in 1974 for a consolidated department creating the RCPD. HRC 5022 has an exemption for any county which had abolished the office of sheriff prior to January 1, 2021. Riley County is the only of Kansas' 105 counties to have a consolidated police department and no elected or appointed sheriff.
Rep. Dodson testified in favor of local control.
"We have such unique counties that I think that uniqueness needs to be appreciated and because each county is different, I would prefer they be given the opportunity to decide for themselves," he said.
You can view the full testimony from Director Butler, Rep. Dodson and County Counselor Holeman below. Their comments begin at approximately the 30:30 mark on the video. Butler's written testimony is also provided below.
Letter to House rref HCR5022

hcr5022_00_0000