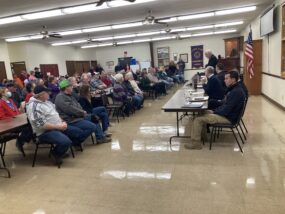 Standing room is all that remained as community members gathered in the Leonardville Community Building to express their concerns with the current ambulance services in the northern part of Riley County.
On Thursday evening, a special commission meeting was held to allow for the public to comment on the matter. Several area residents were present along with school board members, former Riley County police officers, Riley mayor, and even some from outside the county.
The podium never got lonely as resident after resident came up to share personal stories of poor ambulance response times and the pain they or a loved one went through because of it.
"Year and a half ago dad got hurt, pretty bad and we waited a long time," one resident shared. "You know, every breath was a struggle. You ever sit there and had to hold somebody with their bones crunching every time they breathe and waiting 40 minutes? I don't even know why we're talking about this. Can you answer that?"
This was just one of many emotional stories shared during the meeting. Cheryl McCabria, another resident, shared her first experience with the ambulance service and the slow response time while her daughter was having an allergic reaction. She said when she needed responsive care again, she opted for her own driving.
"Since I knew the ambulance response times were long, I risked driving her to the hospital myself, "she added. "I prayed the entire way that she did not stop breathing and I wished I had access to an ambulance with oxygen and a paramedic."
Stories similar to this, were echoed throughout the evening and USD 384 school board member, Mitch Innes pointed that out.
"Your statistics are based off of us taking care of ourselves. Your statistics of 22 calls, whatever, it's not because the need isn't there. It's because we know our options, but they shouldn't be options. As taxpayers, as human beings, we all should not have to make that decision and be forced with that decision every day."
Long time former Riley County Emergency Management Director Pat Collins, a resident of over 60 years, added more.
"I keep hearing the same thing. And I wanted to know who out here have actually transported somebody rather than to call an ambulance?"
With that, nearly every person in the crowd raised their hand, leaving an uncomfortable feeling in the room.
"Commissioners, you're losing the confidence of your people," Collins added.
Commissioners were challenged throughout the course of the evening to put themselves in the shoes of the residents. Mitch Morgan, retired Riley County police officer who patrolled in the northern part of the county for 13 years, said it's easy to look at a map, but encouraged the commissioners to go drive the roads.
"Part of the things that we would do as north county officers, would take our dispatchers for orientation rides, and they would look and they would say, 'Why does it take so long for you guys to get from this place to this place,'" Morgan said. "And when we would take them on those orientation rides, driving from 77 to the northern most house, the speed limit on all of the county roads is 55 miles an hour, but you're talking about gravel roads, dirt roads, cow paths. You're not going to make it in any kind of speed, especially driving an ambulance that has a governor it can't go as fast, it's top heavy. You don't want to put that crew in danger because if they don't arrive, they can't help."
Morgan added that from the northern most house to 77, it took 39 minutes when he timed it. A time that is not common in many other counties, due to the shape of Riley County. A Washington County resident talked more about their services.
"I know it's a square county, but from my home residence, there are three towns that are five miles away, each with their own ambulance service. I can have an ambulance at my door within five minutes,"she added. The furthest away ambulance in my county is 20 miles from my door. That is a quicker response time than here in Riley County."
Concerns were expressed from several people and nothing but support was shown for an ambulance service to be placed in the northern portion of the county. USD 378 board member, Christine White, said this service is important for the school too.
"We sent an email to you earlier this week that was mentioning the number of students, 700, that attend our schools on a daily basis. There are also 400 students that are transported by our bus services twice a day. In addition to that, we have numerous students who, teenagers, who are driving to school everyday on these dangerous highways."
Pat Collins left the commissioners with one final thought.
"Why do the police have roving units all over the county to cover that? Why do public works have strategically placed graders and people in trucks and stuff like that across the county? Why do the power companies strategically bring people out, trucks, in areas all across the county?"
Commissioners plan to meet this upcoming week to discuss what they heard from community members.
Since being elected as a county commissioner, Greg McKinley has voiced his desires to get an ambulance service in the northern part of the county, specifically Leonardville. McKinley has previously talked about how it is not a matter of money, it's a matter of humans and cutting down the response times.