"It's Friday!"
For many in the Flint Hills reading that, they could hear the strong enthusiasm of long time KMAN morning show host and the "Voice of Manhattan", Dave Lewis. This Friday though, this Friday was different than the rest. After twenty years of serving as the morning show host, Dave Lewis signed off for one final time.
Lewis grew up as a farm kid in Elmo, Kansas, listening to a transistor radio hooked to his tractor. His father was a farmer and his mother was a teacher and a talented musician. He credits his broadcasting career to the influence of both his parents. Lewis says his mother was an avid radio listener. Morning routine in their household consisted of morning radio shows, and sure enough, when Lewis would get home later in the day, radio shows would still be playing.
Lewis's broadcasting career began taking form when he was really young. As many kids do, Lewis began mimicking the radio personalities, but his mimicking was different than most kids. His cousin was quick to point to his voice actually being better than those on-air. Lewis who is now known for having a deep, booming voice jokes that puberty really served him well.
With a voice for radio and parents who loved music and were avid listeners, Lewis eventually decided he wanted to pursue a career in radio.
In 1979 Lewis got his foot in the door with his first broadcasting gig. He worked as a board operator for KCKS in Concordia, Kansas from 1979-1981. He then spent two years as news director and morning show host at KABI in Abilene. Lewis says he remembers spinning records one Christmas Eve. He was feeling sorry for himself, but then a car pulled up. Of course he was confused, but then a family got out, knocked on the window, and began singing Christmas carols. Lewis says it's moments like that, that he will cherish forever.
Lewis's broadcasting journey continued and he later worked at KMKF in Manhattan and as program director at KAWQ-FM in Wamego. In 1987, Lewis became a DJ and production and music director for KSAL and KYEZ in Salina, a job that had his mother bragging about him to her friends.
It was in 1991 that Lewis became a fixture to the Manhattan/Riley County area when he was hired by Rich Wartell to be KMAN's Program Director and morning show host. In one of his most memorable moments in radio, Lewis led Manhattan Broadcasting's coverage for three days during the 1993 floods. Lewis used his voice to help ease the public concern during the severe weather. In April of 1995, Lewis was also involved in breaking national news with the Kansas connection to the Oklahoma City bombing. Coverage of both news events were recognized by the Associated Press for outstanding news reporting.
While many learned to recognize his voice on the radio, his involvement in the community extends well beyond station responsibilities.
He has served on boards of directors for more than a dozen organizations, including the Manhattan Area Chamber of Commerce, Manhattan Convention and Visitors Bureau, Shepherd's Crossing, and the Johnson Cancer Research Center at Kansas State University. From 2002-2005 he also served as chair of the Manhattan Riley County Sesquicentennial, and in 2006 he was awarded as "Volunteer of the Year" by the Manhattan Chamber of Commerce for all his work.
"The awards you have won have not just been in the radio, they extend beyond that," said Manhattan Broadcasting Company President, Rich Wartell. "You are an integral part of your community, and I congratulate you on that."
Even early on, Lewis was no stranger to awards. The Manhattan Mercury recognized Dave Lewis as one of Manhattan's most admired people from 1993 to 1995. In 2006, Lewis also won Seratoma Man of the Year.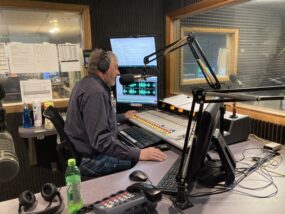 Lewis left KMAN in 2005 to be with his wife who was battling breast cancer. He spent time with her, raising his children, and running his own business– "Dave Lewis Entertainment". Lewis says the decision to leave radio was tough, but also easy to be with his wife and children.
His entertainment business actually began in 1979, as he provided his skills as a Master of Ceremonies, wedding reception entertainer, disc jockey, and even a game show host. Since then "Dave Lewis Entertainment" has been a part of over 900 weddings and 2000 events across nine different states.
Unfortunately, Lewis lost his wife to cancer shortly after leaving KMAN. He continued his focus as a family-man, but also as a community-man. In 2006, Lewis just couldn't keep away from community involvement and he took a position as the Kansas State public address announcer for Kansas State football and men's basketball. His voice became a familiar sound inside Bramlage Coliseum and Bill Snyder Stadium, and he served as the public address through 2021.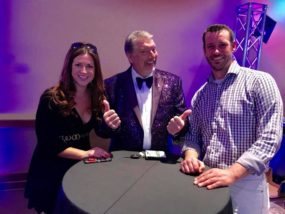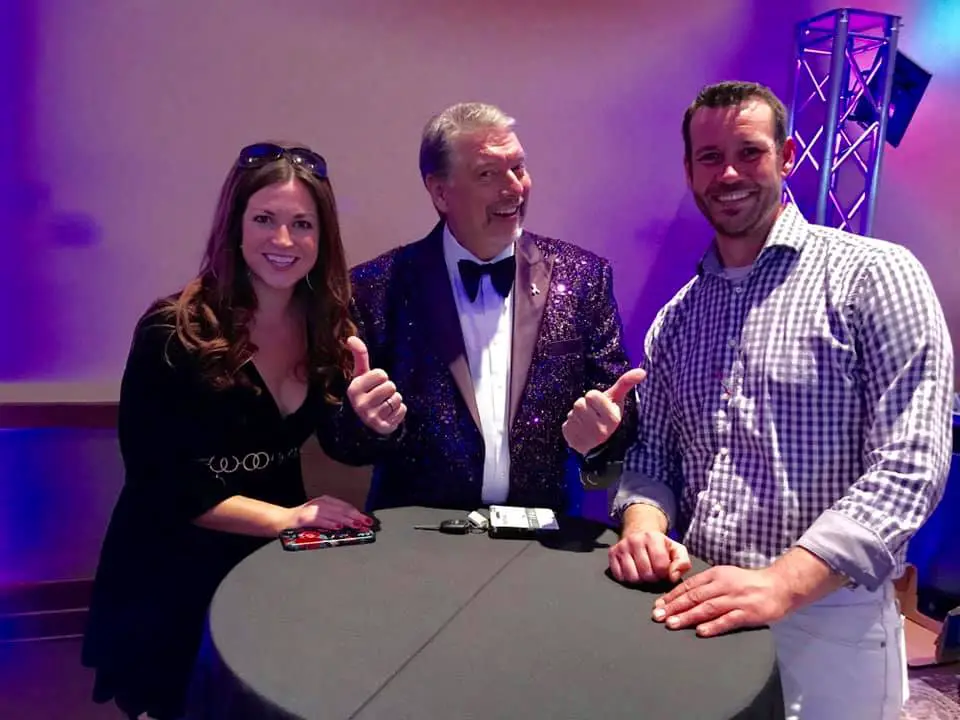 After a ten year hiatus from radio, Dave Lewis returned to radio at News Radio KMAN in 2016. His return came ten years to the day after his wife lost her battle with breast cancer. Upon his return, Lewis has served as the Program Director and morning show host.
Awards for Lewis piled up once again. In 2019, Lewis became just the third recipient of the hospitality partnership award recognized by Visit Manhattan and the City's Convention and Visitors Bureau. That same year he was also inducted into the Kansas Broadcaster's Association Hall of Fame.
Lewis has touched so many lives through his radio show and work in the community. In his final hour on-air, the telephone lines were ringing off the hook with callers calling to congratulate him on his new endeavors, but also share stories of ways that Lewis has impacted their lives.
"You've had a wonderful career in radio," Greater Manhattan Community Foundation CEO, Vern Hendricks added. "I talk about changing lives and serving people and you do that on a daily basis from your show. It's hard to know how many people you impact on the radio."
"Your ability to communicate and share about your life as an announcer, the good times and the tougher times," Lyle Butler, former president of Manhattan Area Chamber of Commerce added. "Everything from scraping ice off your windshield in the morning to talking about your daughters graduation and marriage and sharing those kinds of things, endears you to the audience. You are very, very successful in doing that and in addition to your humor and all the things you do that are so great, over the many years that you've been on the air, you've been able to share a part of your life which then makes us feel like in our community, Manhattan, where everybody talks about the family- you are part of everyone's family. We are going to miss you as part of the family every morning."
Even the mayor of Manhattan chipped in.
"It's your voice, it's comforting every morning," said Manhattan mayor, Linda Morse. "It's familiar and that's what you would want from us as listeners. I have appreciated you drawing from your life experiences, as hard as some of those have been, it matters to the rest of us that you have that insight."
Dave "Lewis" Guthals may have signed off from radio, but he's not calling it retirement, but instead a transition. Lewis plans to focus on his latest venture in entrepreneurship, Ad Astra Cast, a podcast production studio. He also plans to continue his work as "Dave Lewis Entertainment" hosting game shows, weddings, special events, and fundraisers.
"I always hate to see good people get off the air, and there's so many reasons for that," Steve Smethers, KAB Hall of Famer and Director of K-State A.Q. Miller School of Journalism, added. "I was struck by something this morning. You were talking about the many historic events that have happened in our community since you've been on the air here in Manhattan, the floods, the tornado warnings, the ice storm and you know the thing about it, there's a common thread to all of that. And that is that you have been at the center of all of this as a representative of what local radio is to a community. We can't ever lose sight of the fact that we need people on the air who understand the central role of radio, newspapers, and TV in a community, and I really think that we are going to miss you because of that."
A focus on providing for the locals is all that Lewis knows, serving his community in more ways than one. He says he's built a lot of great relationships through his time in radio, and adds that the listener connection is the most valuable thing to him, recognizing that for some listeners, that might be the only human connection they have in a day.
"Over thirty years behind a microphone at stations in Concordia, Abilene, Wamego, Salina, Manhattan, Manhattan, Manhattan," Lewis said. "It's been a whole lot of fun. I've got so many memories and so many friendships and I will relish each and every one of them for as long as I live. It's been a wonderful run, thanks to all those who have supported me, and thanks to all those that have listened and have allowed me to become a part of their lives as they have become a part of mine."
You can listen to Dave's last hour on KMAN below.