While some just see photographs, others, like Doug Barrett, see stories.
The Riley County Historical Society sponsored Doug Barrett, an internationally recognized documentary photographer, videographer, and photojournalist at their quarterly meeting Thursday evening at the Marianna Kistler Beach Museum of Art. Barrett, who lives in Manhattan, owns 400 North Creative and now has an exhibit at the Beach Museum.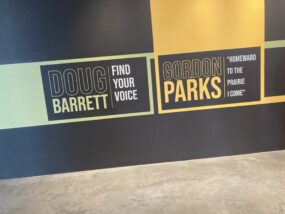 Barrett is a Georgia native, but following his time in the military, he decided to stay in Manhattan. Since leaving the military, Barrett said he felt like he had so many stories to tell. As someone who always has a camera with him, he decided photography was one way to do that.
"For me, I feel like politics divide people, but photographs can bring people together because if there is a narrative or if there is not a narrative, a good photograph can tell a story," Barrett said.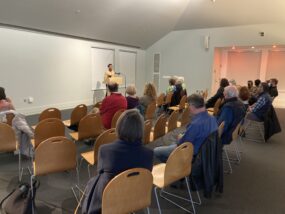 He said he can remember Christmas days when he was younger and his father would have the VHS camcorder on his shoulder and he would have his recorder and receiver ready.
"He would make me and my sister sit at the top of the steps and he would say, 'Today is December 25, 1990' or '1989, Douglas and Bridget's Christmas.' And then we would run down the steps, he would have us on the camcorder and then he would start taking pictures with his camera."
Barrett says he remembers at ten years old he received his first camera, and from that point on, a camera has always been with him.
"If I don't have one with me, check on me."
It's a good thing he always kept his camera on him, even when working in cyber security.
Prior to the pandemic, he was working in cyber security and traveling around the United States.
"I got to the corner of this intersection as I was leaving a business meeting and this man sitting behind me by the name of Leo said, 'Young man can you help me with change?' In my mind, I was like heck no, because I had judgments just like everybody does," Barrett explained.
At that moment Barrett said he felt something tug at his heartstrings, so he told the gentleman if he could share his story then Barrett would see what he could do.
The gentleman shared his story saying he was in the marine corps. After the marine corps service, he and his wife were in Chicago and he was a firefighter. He fell on the roof of a burning building, got injured, sought help from the VA, sought help from his union- they wouldn't help him. Shortly after, his wife died, and one thing after the next and he landed on the street.
"When he told me that story, I wasn't prepared, he continued. "I was thinking drugs or alcohol and just had my own judgments of another human being and it caused me to want to find out more."
Barrett continued speaking with Leo and asked if he could grab a few pictures, to which Leo approved. Barrett said he grabbed two frames, finished the conversation, and moved on.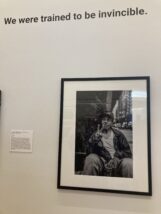 "It stuck with me all the next day and I said I've got to go find two more."
From 2018, up until the pandemic, Barrett traveled to 17 different states and documented stories of 75 homeless veterans. Barrett's goal was to travel to all 50 states and find three homeless veterans from each and share their stories.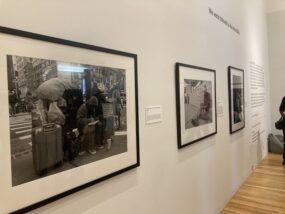 "Those stories for me, as a veteran, needed to be shared."
As the pandemic flipped the world upside down, Barrett had to adjust, as travel just simply was not possible. Two Manhattan area photographers were already documenting small-town America and the stories of Manhattan. Barrett set aside on a different route, something near and dear to him.
"I wanted to see how Black America was experiencing the pandemic along with the racial tensions of the George Floyd protests."
As an African American himself, Barrett said he had faced discrimination and knew what it was like. He shared a personal story of his during a visit to a store here in Manhattan.
"Went to look for some jumper cables and I was pricing them comparatively to everybody else. I walked out of the store, I was wearing blue jeans and blue jean coat, walked out of the store and the alarm went off," Barrett continued. "Not a big deal, and the lady says, 'Whatever you stole from the store, empty your pockets and put it on the counter.' I said ma'am I didn't touch anything in the store, I was looking at your pricing, I didn't see what I wanted so I was leaving. She said, 'You didn't set it off when you came in, so apparently you took something so if you don't empty your pockets right now on the counter then I'm going to call the police.'"
Barrett said he decided it was in his best interest to stay put and just let the police come so he could ensure that his innocence was proven. Turns out the jean coat Barrett was wearing did not have the tag removed when he bought it previously at another store, so the alarm was triggered.
This was just one of many stories of the discrimination faced every day, and Barrett knew it was time for him to speak up. He made a self-portrait and typed out his narrative.
"I felt like it needed to be shared because a lot of people have heard, with all that was going on with the George Floyd protest and the civil unrest, that this doesn't happen in Kansas and this doesn't happen in the Midwest, but I said it does happen. It's just subtle."
As an African American, Barrett said 2020 was a traumatizing year with all the civil unrest. As the protests began all across the country, Barrett wanted to be where everything was to document it through his photography. Colleague, Jim Richardson, encouraged him to do otherwise, and "go small".
"I relate that to Gordon Parks in terms of most of his stories that he shared and most that you will see in the exhibition, they're not celebrities, they're real everyday people with real stories, and those real stories carry impact."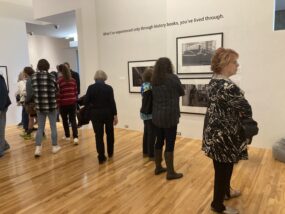 Barrett said with that inspiration and the encouragement of his colleague, Richardson, he decided he didn't have to be in Minnesota where everything was burning, but instead he could tell stories right here in Manhattan.
"Through that motivation of going small, sharing stories, and stories of my own backyard has helped with Aileen seeing my work and Linda seeing my work and wanting to give me a show," Barrett shared.
In a quest to see how Black America was experiencing the pandemic, Barrett's backyard extended down Yuma Street, a street he was always told to avoid in Manhattan. A street that is rich with African American history.
On his trip down Yuma Street, Barrett met several, including a 101-year old African American veteran. Through photography and short narratives, Barrett told his story as well as many others.
"I was like, this is incredible. How is it that there is such negative? It's because people don't know what they don't know and you can't learn something if you don't know it, so in order to learn something you have to have something to read or have narrative, so through that I began to put photography with the narratives that I was hearing through Yuma Street."
Doug Barrett is finding his voice through photography.
"When I make those frames or somebody brings me into their circle, I have to honor them through my work. I have to give them that much respect through making good photographs in order for that story to be shared respectfully and tastefully," Barrett said. "For me, that is the most important thing I take when somebody asks me to take a photograph. They are giving me a piece of them. I'm capturing that time, I'm capturing that moment. And that moment is going to live with that person, or that organization, or wherever that work is going to live, so it's important to me."
Barrett's exhibit, "Doug Barrett: Find Your Voice" is on display until May 28 at the Beach Museum. It is a companion to the "Gordon Parks: Homeward to the Prairie I Come" exhibit.