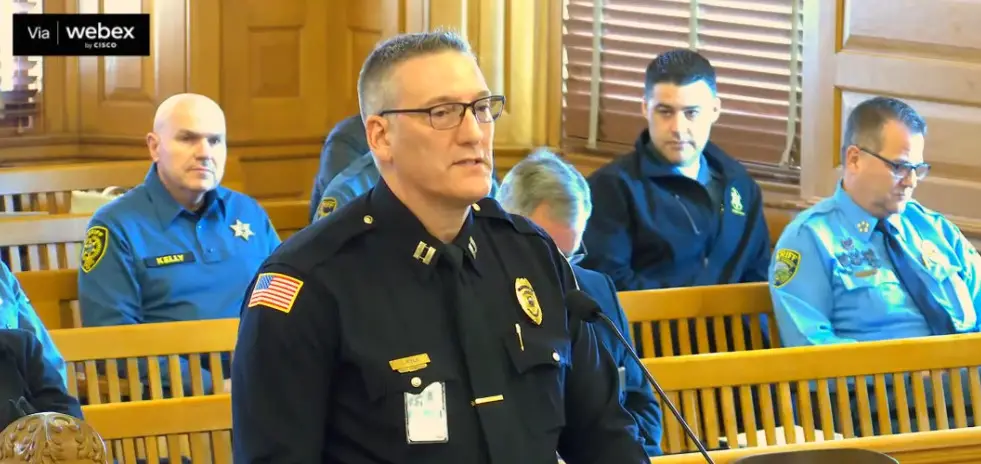 As Kansas lawmakers consider a bill proposing a constitutional amendment requiring most counties to continue electing sheriffs, Riley County police administration are staying neutral in light of a provision grandfathering in municipalities that abolished the office prior to 2022.
HCR 5022 was before the Senate Judiciary Committee Monday, having received the House's go-ahead on a voice vote in February. If approved by two thirds of both bodies, 104 of Kansas' 105 counties without consolidated police forces will be required to maintain the office of sheriff and ensures they can only be removed from office by recall or the State attorney general. The amendment will be on the November ballot if it reaches the necessary threshold.
Proponents have argued the constitutional amendment is necessary to safeguard top county law enforcement officers from local officials looking to dictate who receives the position. Opponents, though, have argued the amendment takes away local control and that it is a response to an issue solely a concern of Johnson County — not the State as a whole.
Riley County is the sole county with a consolidated police force, having voted to abolish the sheriff's office and create the Riley County Police Department under the governance of the Riley County Law Enforcement Agency in 1974. Riley County previously offered a neutral opinion on the amendment in testimony in committee in the Kansas House of Representatives, though officials expressed concern that the provisions grandfathering in RCPD could be removed.
RCPD Administrative Cpt. Josh Kyle provided testimony Monday, saying the department holds a neutral position in 'acknowledgment of the language in the bill's current form that allows RCPD to continue to exist.'
"I'll say that again: this bill in its current form allows RCPD to exist," says Kyle. "Otherwise we may find ourselves deconsolidated."
Kyle, a third generation LEO whose father Dana Kyle also served as a captain in the RCPD, says consolidation in Riley County was the brainchild of former legislator and county attorney Donn Everett and was an effort to improve the effectiveness of law enforcement in the county.
"He noticed that the different law enforcement agencies in Riley County varied significantly one from the other," Kyle says. "The level of training, the level of proficiency, the level of professionalism varied significantly between the different agencies."
Everett believed consolidation could provide a better path forward for the county, something to which Kyle personally attested. Former Director Dennis Butler has also expressed support for the consolidated model that exists in Riley County.
"The citizens of Riley County voted and voted in favor of consolidated law enforcement for Riley County and after about a year of its existence, they voted once again in favor," says Kyle.
"In fact, there was more people that were in favor of consolidated law enforcement after it had existed for a year."
Kyle told senators that amid talk of distancing law enforcement from the personal and political agendas of individuals in government, the consolidated model of RCPD already accomplishes that goal.
"We do not report to a city commission or to a city manager, nor [do]we report to a board of county commissioners or to particular commissioners or administrators — we report to the law board as comprised by law," he says. "As a result, we find a certain level of independence that allows us to maintain a high level of professionalism while at the same time avoiding the pitfalls of the day-to-day political whims of individuals."
Kyle closed by asking that provisions in the House concurrent resolution that allow RCPD to remain as currently comprised remain in HCR 5022.
The Riley County Law Enforcement Agency or Law Board as defined by State statute consists of one representative of the Manhattan City Commission, one from the Board of Riley County Commissioners, an additional member of one of the municipalities on a rotating basis, the Riley County attorney, as well as two at-large citizens from Manhattan and one from the county.