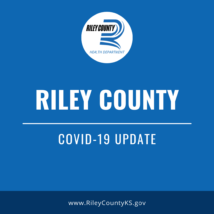 A total of 38 COVID-19 cases were logged in Riley County by the Kansas Department of Health and Environment in the final week of April.
The data was shared Wednesday by the Riley County Health Department, who says the incidence rate per 100 thousand is 51.2, putting the county in the substantial incidence category, which is 50 to 99 cases per 100 thousand people. Ascension Via Christi was caring for one COVID-19 positive patient as of Wednesday.
As of May 6, Riley County has totaled well over 13,000 COVID-19 cases dating back to March 2020.
For up to date Riley County trends, visit the KDHE Data Dashboard at coronavirus.kdheks.gov. The dashboard is update by 12:30 p.m. every Friday.
In-person testing is still available at most doctors' offices, urgent care sites, and some pharmacies. At-home test kits are available for free at the following locations during their regular hours of operation. Limit two per person.
Riley County Health Department – 2030 Tecumseh Rd
Manhattan Public Library – 629 Poyntz Ave
Leonardville City Offices – 118 Erpelding St
Ogden Community Center – 220 Willow St