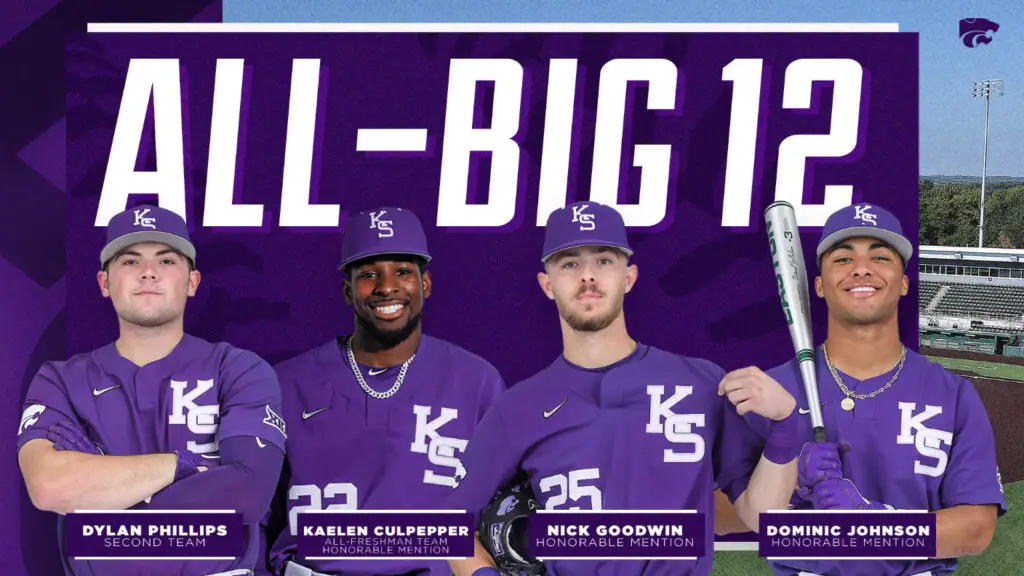 (Kansas State Sports Information) – K-State's Dylan Phillips was voted to the 2022 All-Big 12 Second Team while Kaelen Culpepper claimed All-Freshman Team honors to highlight the Wildcats' five total selections, as the Big 12 Conference revealed its 2022 All-Big 12 Baseball Awards Tuesday.
Additionally, Culpepper, Nick Goodwin and Dominic Johnson each received honorable mention accolades, as the awards were voted on by the league's nine head coaches.
Phillips, voted as a utility player, takes home his second all-conference second-team honor. The Omaha, Nebraska product led the Wildcats during the regular season with 13 home runs and six saves.
The junior put together a slash line of .287/366/.536 to go with 42 runs batted in. Phillips' 13 home runs this season are tied for sixth-most in the conference while his 44 career homers stand as the most in K-State history.
On the mound, Phillips has a team-best 2.93 ERA in 13 appearances. He has struck out 19 over 15 1/3 innings while walking just two. The lefty has set career highs in ERA, appearances, innings and saves this season. He is one of two players in the Big 12 to register multiple saves and 10 or more home runs (Nolan McLean, Oklahoma State).
In his freshman campaign, Culpepper leads the Wildcats during Big 12 play with his .324 average – the second-highest average among league freshmen. Four of his five home runs this season have come in conference games.
Culpepper's season slash line sits at .282//359//430 along with five home runs and 20 runs batted in in 47 games (44 starts). A native of Memphis, Tennessee, he has registered a dozen multi-hit games.
Goodwin, an all-freshman team and freshman all-America honoree a season ago, is hitting .284 with six homers and 20 RBI during Big 12 action. For the season, Goodwin has 10 home runs and a team-leading 46 runs batted in, with 14 multi-RBI efforts.
The Overland Park product has reached double-digit home runs for the second straight season, as he tied K-State's freshman record with 10 during the 2021 campaign.
Johnson is K-State's leader in all three slash categories (.346/.419/.589) along with 11 home runs and 41 RBI. Earlier this season, he put together a 16-game hitting streak that included nine consecutive games with multiple hits. The 16-game stretch was the longest by a Wildcat since 2010.
Johnson, who hails from Edmond, Oklahoma, has a team-best 22 games with multiple hits. Against UC Irvine on April 22, he became the first Cat since 1988 to homer twice in the same inning.
K-State heads to the 2022 Phillips 66 Big 12 Baseball Championship as the No. 7 seed and will meet second-seeded Texas Tech on Wednesday at 4 p.m. at Globe Life Field in Arlington, Texas.