The Manhattan Area Habitat for Humanity broke ground Friday morning in Ogden on its 31st home project, one that boasts the ability to produce as much power as it consumes.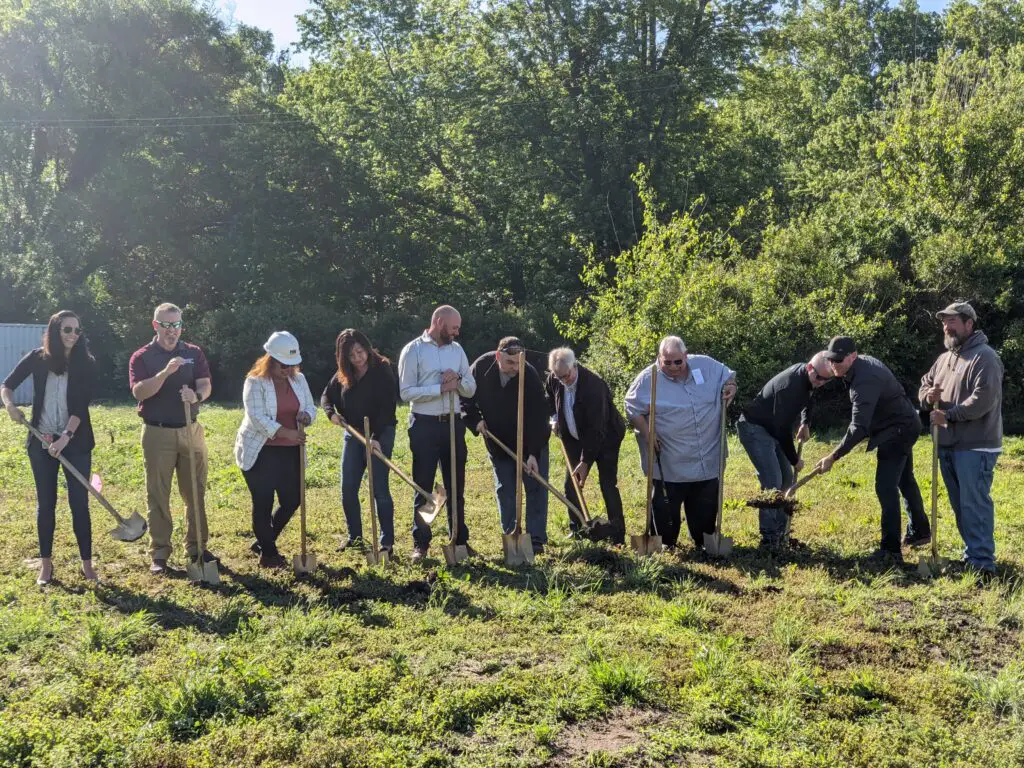 Coined Build 31 and located at 201 S. Elm Street across the street from Ogden Elementary, in the spot where a deteriorated structure once stood. Executive Director Josh Brewer says the occasion represents a 'moment of change.'
"The City [of Ogden]has been very welcoming, very supportive of this sort of work – oftentimes we are removing dangerous inventory from their market and so they're thankful for that," Brewer says. "I think they appreciate that we are not building the bare minimum, we're building the best product that we can because when we build a house we're making a hundred year investment – at least – in their community."
The groundbreaking ceremony brought out a healthy crowd of community members, elected officials and project partners. After a prayer by First Free Methodist Church Pastor Lewis Smith, Brewer talked about the planned home – the second of similar 'net-zero' homes the organization has built in Ogden.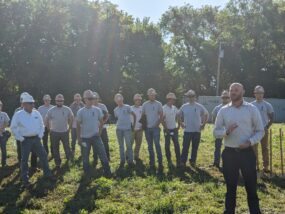 "It uses advanced building materials and processes," he says. "In short, these homes are designed to produce as much electricity as they consume and that eliminates a burden of home ownership – the cost of operation."
Brewer says by adding the cost of solar panel systems and other energy efficiencies into the mortgage, they have the potential to eliminate upward of $300 in heating bills during the Winter months.
"That creates stability."
The project has numerous partnering organizations, which Brewer noted also helps with workforce development. Students from Manhattan Area Technical College and Flint Hills Job Corps work with Habitat to help with the build process with the design stemming from the Kansas State University College of Architecture, Planning and Design's Net Positive Studio.
Also involved are the Flint Hills Builders Association, the Flint Hills Renewable Energy & Efficiency Cooperative (FHREEC), and the Fort Riley Home Builders Institute or HBI.
"Building that workforce pipeline in many ways is just as important as building these structures," Brewer says. "We're not going to have a workforce if we don't have workforce housing and we're not going to have workforce housing unless we invest in that workforce."
Brewer says the project wouldn't have been possible without such collaboration, including from the Ogden community. He says the project is currently past the 50 percent mark in terms of funding, and asked the community to do what they can to spread the word and support Habitat's work in Ogden.
"Vote with your dollar and say that this is the type of change we want to see in the community," Brewer says.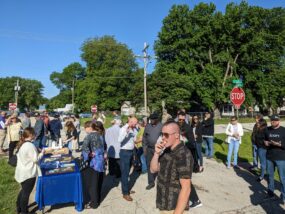 Former Ogden Elementary Principal Jim Armendariz was on-hand to take part in the groundbreaking, also joined by State Sen. Tom Hawk and Riley County Commissioner John Ford.
Hawk was enthusiastic about the project and the partnerships involved with Build 31. He noted the State this year bumped funding in the budget for the Kansas Housing Resource Commission's Moderate Income Housing Program from $2 million to upward of $20 million, saying the KHRC would do well to keep an eye on the design of this new structure.
"There's so many opportunities for us to invest money and have sustainable housing because Kansas really needs to have broadband and housing if we're going to have the economic development that we've got to have," says Hawk. "This is a perfect model for the State, I think, to take other places."
Ford says the turnout Friday shows the level of interest the community has in similar projects, saying innovative approaches to housing design and new ways of funding their construction is a vital consideration for the Flint Hills and Riley County specifically.
"It's probably very, very important that we bring in different types of funding to look at different types of things in different types of communities including our other three smaller rural communities," says Ford. "And maybe […] something in an unincorporated area that kind of builds that base, too."