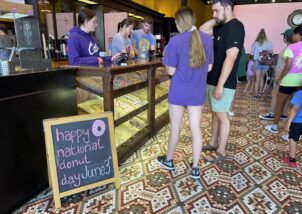 With National Donut Day falling on Friday, June 3rd, one Manhattan business expects to see sales drastically increase in celebration of the holiday.
Varsity Donuts is celebrating their 10th National Donut Day since the store opened. For Friday only, the bakery will be giving away one free classic donut per customer.
Varsity's Manager Melisa Cross spoke to KMAN on Friday about the changes that were made to the store's production process in preparation for the event.
In addition to larger donut sales, Varsity's assistant manger Addie Terrill said that there are other things that make the day special.