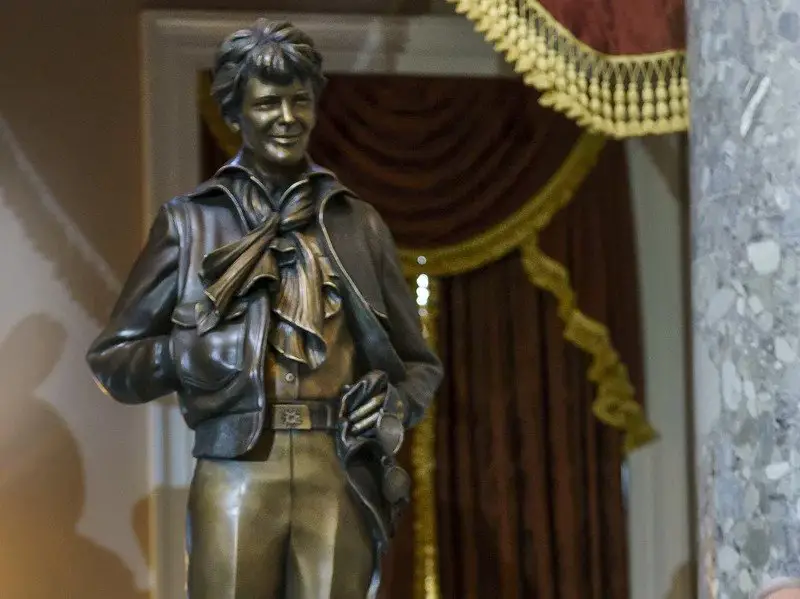 Decade long plans to place a statue of Amelia Earhart in Statuary Hall at the U.S. Capitol came to an end yesterday. The statue was placed on a base of Flint Hill limestone in the hall to recognize the aviator just days after the 125th anniversary of her birth.
Senator Roger Marshall praised not just Earhart but the city of Atchison on the Senate floor ahead of the statue's placement earlier this week.
Senator Jerry Moran tied Earhart's pioneering efforts in flight to the state's ongoing role in aviation when addressing the statue's placement earlier this week.
The statue of Earhart replaces that of John James Ingalls, also of Atchison, who penned the state's motto "Ad Astra Per Aspera".
Senator Marshall noted that Earhart and her navigator went missing on a flight around the world at the Equator 85 years ago this month.
0727 Marshall - Earhart 1
Senator Moran noted Earhart held many jobs before becoming a pilot.
The statue of Earhart stands along with one of former President and General Dwight D. Eisenhower as the representatives of the state in Statuary Hall.