MANHATTAN, Kansas (Kansas State Athletics) – K-State soccer took a respite from training to address the media for the first time in the 2022 season on Wednesday at Buser Family Park. A transcript of seventh-year head coach Mike Dibbini is below.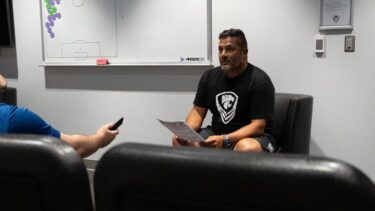 The Wildcats host Missouri State in a scrimmage that is free to the public on Saturday at 1 p.m., at Buser Family Park. K-State begins its seventh season on Thursday, August 18, against Northwestern at 7 p.m.
Opening Statement…
Mike Dibbini: "I feel like we're in a good place. We have a lot more depth than we've had since we started the program. We have, you know, players that are versatile that can do different things for us both defensively and offensively. With the depth that helps manage the game a lot better. We have some more speed than we've had in the past. So I feel really good about the direction we're going and I'm excited. I'm excited to see what they can do. I think the hardest and challenging part is figuring out the lineups and figuring out the rotations and not because we don't have it, it's just more of figuring out who meshes well on the field and gels. Gels together quickly. So just excited about the season."
Question: How excited are you for the senior class?
MD: "You know, I think we have experience and having this many seniors in the gauntlet of the Big 12 I mean, it's important that that experience takes place with more of the key moments of the games and matches and they understand they've been here, they've done it. They've gone through the highs and the lows and I think their experience shedding on to the younger players is going to be a massive benefit for us. They got a chip on the shoulder. They've been here for a long time and they've gone through, like I said, the highs and the lows and they know what it takes. So I think it's going to be beneficial this year."
Q: How tough is it to replace a player like Brookelynn Entz?
MD: "Brookelynn is hard to replace. Her creativity and her offensive ability was this big focus in the last four years. Now you remove a player like that, it's anybody's game. So it opened us up a little bit more for a lot more players to stick out and attack and defend but mainly when you're on the attacking side with numbers and not rely just on one player."
Q: 20 goals last year most ever in the season. You went over to KU and won and pulled off a couple of draws at home against really good teams in the Big 12. You have most of your points coming back, offensively, a lot of really good players. What's that next step now? 
MD: "Winning those matches, maybe offensively more explosive, dynamic attack and getting more numbers in the box. And I feel like we have a lot more of those type of players on the field. Each year we just continue to grow and get more of that type of player that understands what it takes to play at this level. And you'll be impressed with some of the younger players coming in as far as their speed and their ability to get going."
Q: What can you say about Rachel Harris who didn't play at all last year? Is she good to go now and what's that journey been like?
MD: "Yeah, she's been released. It's been a long journey for her battling injuries but she's tough and she's got a strong mentality within her to aid that come back and and do what's best for the team and help the team in so many different ways not only just playing in the goal, but you know, within the program and being experienced in understanding what it takes."
Q: You said it's tough, but in what ways were you and maybe her teammates able to support her during this challenge?
MD: "Just over communicating with her and doing what's right to make her understand that you know there's a lot of time between now and next year if I understand your question right later on between now and next year because she was trying to rush things, there's no rush. We need your full strength and just make sure you do the right rehab and do the right thing to the right course to get yourself back to where you're capable of being swing through so we can get you full strength and she did that and so she was trying to rush it. We tried to, with our athletic training stuff, make sure she's ready, mentally and physically."
Q: It's been two years was there ever a time where you wondered? Even though she's so tough, would she be able to come back?
MD: "You know, if you know Rachel really well, you knew that she was going to come back she just has that mentality and edge of figuring out a way. We're gonna support her either way. But for her to do what she did, to battle back, whether she gets the minutes or gets to start or not, she's going to help this team in so many different ways."
Q: A handful of times where making the Big 12 tournament came down like the final match like you did last year. The year you would have made it there wasn't a Big 12 tournament because of COVID. How bad do you want to make it and make that next leap into the big 12 tournament?
MD: "It's their first realistic goal for our program that we've been trying to reach and we put ourselves last year minus the COVID year when we actually made in we didn't have the tournament. We put ourselves last year in a position to compete in that last match to get there, which hasn't been done before. And I feel like that was an important lesson for us and experience for us moving forward, so I feel pretty good if we can continue to do what we're doing where we did last year minus Brookelynn Entz. We have 90% of the core back. So we have a lot of experience back and we filled in some young talent that if we just take one day at a time and not look further than that. We have a chance.
Q: What is Marisa Weichel's contribution been coming into the program? 
MD: "Really good. I mean, I think last year and I think Randy can correct me if I'm wrong. I think she was one of our of our top point leaders and highest goal scorers, so she contributed a lot especially nonconference. She started getting a feel of the conference with the minutes that she got last year so she has a lot of minutes underneath her. She's very, very athletic and she's versatile. She can play anywhere on the field in the attack, whether it's up front or in the spring we utilized her a lot in the attacking mid-position because she covers a lot of ground so we're excited about her athletic ability and her presence on the field."
Q: This will be the third season in goal for Alaina Werremeyer. Talk about what you have seen in her growth as a player and what you're expecting from her this year? 
MD: "I think every year she figures out a way to continue to get better. She came up big a lot for us last year, the PK save last year against Baylor to keep that result for us. The KU game when we won, making massive saves. Played significant minutes and I don't remember exact numbers but she did a lot that for us in the goal last year that goes unnoticed and she deserves a lot of credit for her presence in the backline and between those pipes.
Q: This is one one of the strongest senior cores you've had in your tenure here. What have you seen from them of getting themselves and the rest of the team ready to prepare for the season and to get to the Big 12 championship?
MD: "I think the day after our loss last year, they came together and learned from that and formed a stronger bond and connection of understanding what it takes to accomplish what they want to accomplish and they have a chip on their shoulder. They're not making excuses. And it's something about this team. It's a little bit different. And I think we start with our leadership and our leadership comes from the seniors. They're holding a lot of their teammates a lot more accountable to little things that are happening that haven't happened in the past. I'm seeing it and it's just a good feeling to see that the program is growing up in so many different ways. So I'm not guaranteeing anything, but I feel really good about the direction we're headed based on my previous seasons. And the way we're approaching the season."
Q: What do you think it does for this program to play a high-caliber school like Purdue at home this year? What do you think it's going to be like for the senior class and just this program to be able to have some competitions like that?
MD: "Yeah, I think those are important games for us. Our nonconference schedule, Purdue, Northwestern to open up. I think those are games that will help us prepare for the Big 12 more so because you're facing some athletes that had been there and done it and have some NCAA Tournament experience. So having that opportunity at home, I feel pretty good about it. I think it's going to be one of those matches that you know, will come out ready to go and prepared for them."
Q: For this senior class under some big names like Marisa Weichel who we should expect to see a lot of playing time and do put up stats. Is there anyone in this class that either hasn't had much playing time yet or hasn't had much stats put up in games that you would say we should expect to see something big from out of this year?
MD: "I think if I had to pick a player hoping everybody stays healthy, because that's the big question mark. We do have more depth this year than we've ever had. I feel like we have players that can come off the bench. But if I had to pick a player that from a numbers perspective, that will probably help change the game besides a Kyler Goins or Marisa Weichel. They've been there I would say Caylee Thornhill is going to come ready to go. We've been waiting for it. She had some good games last year with the game-winner against KU. And I think that was kind of like her, you know, introductory come out year but I feel like this could be a big year for her if she stays healthy."
Q: What made Matt Smith the right guy for the K-State assistant coaching spot?
MD: "Big 12 experience. Two big 12 championships. Two Elite Eight experiences. Between Matt Smith, Don Trentham and myself I feel like we have 60 plus years of college coaching experience together so I feel pretty good about our staff. You look at Don Trentham PAC 12 experience SEC experience and Big 12 experience. Matt Smith, just understanding what it takes to win in the Big 12 brings a different outlook. And it's fun to listen to their experiences and share those experiences within our program."
Q: Is the best part of now having a videoboard out there for matches you can now watch the replays or something else about it?
MD: "I mean, it's massive. It's a blessing to have I think, from a fan experience and the student athlete experience and I can't wait to crank up the system. It's going to be a game changer in so many different ways. From just getting the players revved up and ready to go for the matches to the fans being involved in the matches because that helps us, the 12 man is what we call them, so I just I think it's going be fun. It's going be a great experience and utilizing that with with a team that's on the verge."
Q: What kind of impact has Shannon Dukes had on the team as an international soccer player?
MD: "Really good question. You know, it's an adjustment for her from the very, very beginning and she's still trying to adjust, you know, with the temperatures of Kansas weather and she has to get acclimated she usually starts out a little bit getting acclimated and she picks up more when the weather temperature starts to cool down. I think it's just not the natural ability of being from where I'm coming from wells all summer and then moving into Kansas and it's hard. It's a hard adjustment. technical base, really good. IQs really good. Having having an international player on a team with some sharing her experiences is really important. But she's a good teammate, and a really good middle person to be part of the part of the program."
Q: You have 12 freshmen coming in from this class who has impressed you the most and who could see the most minutes on the pitch this upcoming season?
MD: "I think there's, if you look back and you look at last year, I think we had three or four freshmen make some significant strides in our program. This is last year and that was our first true freshman class from when we started the program. This is my second true freshman class, there's probably going to be four to six players out there, out of that 12 that can probably make an impact this year. If I had to pick players to stick out I think Jazmin Brown brings a lot of athleticism and really good in the backline. I feel like Khaliana Garrett will have some moments where she can do a nice job of helping us one v one defending. She's versatile enough to play her up top if we need somebody that can get behind lines. Andra Mohler has been exceptionally explosive and the front line creates a lot of chances. Sophie Harlan has done a nice job. I mean, they've all done a nice job but I just picked out four from the first two training sessions and it's going to change. Last year, we started out and we saw four early players and then a couple dropped off and two new ones showed up. Players decide or figure it out once they get acclimated to the system. They blossom later and some blossom early. So it just depends on how confident they get throughout the process.
Q: You have a bunch of different transfer athletes coming in for the season. How have they done and have they had to relearn some of the things that they might have learned in different conferences, or is there a unique type of Big 12 play  that's new to them?
MD: "That's a good question. I think we only had one transfer this year with Sydney Sharts coming in. The previous season, I think last year's team and that can answer a lot of the questions is if you look at last season, we were really really close. We had a lot of newcomers from transfers and a lot of freshmen coming in, playing with maybe three or four returning seniors only. And you can see this getting better as the season went along. It was literally kind of like putting a new team together. Well, that team now we lost the seniors had a whole spring together. We added one, only one transfer and so like you have a team that's been playing together for a year now. And I think that's the biggest difference. Had we had this team and we were in the same position last year and that final game, playing together, I think the result may have been different. I'm pretty confident to say that. So I think this team needed time. They got better in the spring we saw it and now we're just onto the fall where we have a lot of seniors and a lot of players have played together for at least a minimum of a year and not having to bring in such a big transfer class again."
Q: Would you expect the seniors to carry the stats load or would it be a surprise to see one of the freshmen or sophomores step up and take some of the spotlight?
MD: "We'd love for a freshman or sophomore to come in and how bright I think you're going to see the bulk of the experience the minutes probably geared towards the experienced players but you will have a handful of younger players freshmen and sophomores from the freshmen class last year and this freshman class contribute in so many different ways. So it's going to be a good balance. If I take a guess you're gonna see some freshmen and sophomores contribute a lot in the points as well. You the likes of Kyler Goins and the likes of Caylee Thornhill and the likes of Marisa Weichel. Probably three of the players and that are going to contribute a lot from the experience and the attack. Then you throw in last year's Riley Baker who's coming along. Then you throw in Sophie Harlan and Andra Mohler from this year, and then can't forget about Adah Anderson. We've got a lot more depth in the attack. And we have experience like Roo (Yarnell-Williams) that has important transfer experience. We just have more choices. This just depends on what kind of lineups you want to put together.
Q: Your program set a school record for fewest shots allowed. How does that speak of the first year of Don Trentham as the defensive coordinator role and the play of Kenzi Gillespie and Jesse Loren?
MD: "Jesse Loren and Kenzi both played together for the first time last year. Significant minutes and our team understands that if we don't concede goals, we have a really good chance because we're going to create some opportunities. We focus a lot on not conceding goals. If we can do that part, the offense will start coming. And that's kind of been the focus again. We start preseason training and our first block that we work on is our defending principles and our technical defending. We focus a lot on our defending now and then the offense will come along after we get our defense down. Don's played a big role and helping us out with our defensive principles and understanding the roles as an individual and as a team. We're looking to hopefully continue to defend well and obviously create more chances in the attack."
Q: When did you begin practices?
MD: "We reported on Monday. We had our first training session yesterday, and today, it was our second training session. And I think we're at a stage in our program where we've entered phase two. Phase one was building an infrastructure. Like we start from scratch. We didn't have this beautiful building and all the facilities. You got to recruit the players. Last year was our first true freshman class. This year is our second true freshman class. We have everything we need now. Now we're starting phase two. So if this program was inherited, you have a starting point, where five years ago, we didn't have a starting point. And you're going to start seeing it flip a little bit here. First realistic goal is get to the Big 12 tournament. Can we do more? Are we going to try to do more? Absolutely. You're going to try to do more. But that's the reality of the Big 12. NCAA Division 1 soccer, it's challenging, a lot of challenging things. So our depth is the key. I would say last year we were eight to 12 reliable players. You start with 11 reliable meaning that you can come in and you can get the job done consistently. I would say we're at 14 to 18 players this year. Now when I'm rotating players and there's a rotation if I have to sub somebody, I can rely on four to six players instead of one to two players. And then it's gonna continue to trend that way. And that's what you're gonna see."