Originally posted on kstateonline.com
by Grant Flanders
1. Baylor
It can be hard to rank a conference in the first week when almost every team in the league played cupcakes. However, there is no question in my mind that Baylor deserves to be at the top. The Bears handled their easy opponent more convincingly than anyone else in the Big 12.
Dave Aranda's squad put up almost 600 yards of total offense and held Albany to under 250 yards.
Quarterback Blake Shapen was very efficient and they did a good job moving the chains on third downs. Baylor also rushed for over 250 yards. The game was all but over at halftime when the score read 35-7.
The Bears will have a tougher matchup this weekend when they travel to Provo, Utah to take on No. 21 BYU.
2. Texas Tech
While debuting a new head coach, Texas Tech the only Big 12 team to eclipse 600 yards of total offense last week. They did it mostly through the air, and although he didn't get the start, Donovan Smith led the way with an efficient four-touchdown performance.
Tyler Shough started but injured his shoulder on his third drive and is expected to miss three to six weeks.
Joey McGuire's defense held Murray State to under 260 yards. They gave up 10 points early into the second quarter but shutout the Racers the rest of the way. Defensive lineman Philip Blidi finished with two sacks.
Texas Tech invites No. 25 Houston to Lubbock on Saturday.
3. Oklahoma
In Brent Venables' first game as Oklahoma's head coach, they invited in a UTEP team that lost to North Texas a week before. Quarterback Dillon Gabriel started off hot but cooled down and played the entire game.
The reason for that is because the Miners were able to hang around longer than expected.
However, the Sooners' defense looked a lot better than we are accustomed to seeing. They held Dana Dimel's squad to only 28 yards rushing. Defensive lineman Reggie Grimes disrupted the backfield with his 2.5 sacks.
They did surrender 288 yards through the air and a total of 26 first down. They will hope to correct some of those details on that end moving forward.
The offense wasn't as explosive as it used to be under Lincoln Riley, but they almost surpassed 500 yards in a balanced attack. Running back Eric Gray rushed for 102 yards on 16 carries. Wide receiver Marvin Mims caught three balls for 81 yards.
Oklahoma has one of the easiest non-conference schedules in the league. They invite Kent State to Norman this weekend.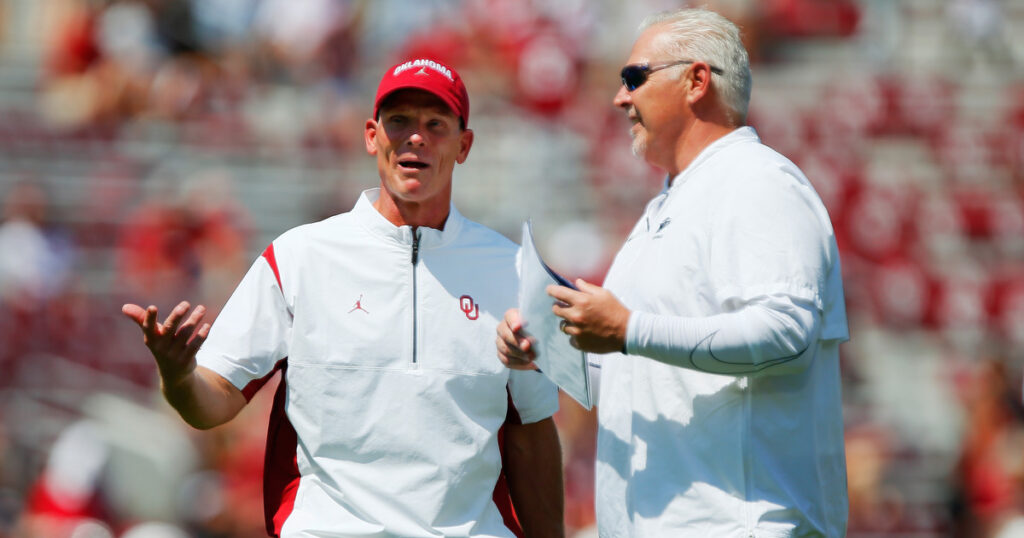 4. Texas
Texas' offense didn't put on a show, but they didn't need to since the defense and special teams helped them reach 52 points on the scoreboard. Although they didn't shut out Louisiana-Monroe, they proved that they have a defense worth monitoring. It could be a strong suit for Steve Sarkisian's club this season.
The offense was slow out of the gates. Quinn Ewers threw an interception on the first drive and they were not efficient on third down. Bijan Robinson was good in his 10 carries, but I expected more than 134 yards rushing as a team.
It will be interesting to see how the Longhorns fare this week against the number one team in the country, Alabama. They'll surely lose, but can they put up a fight?
5. Kansas State
Shutting out any opponent is hard to do. Kansas State pulled it off for the first time since 2019 and were the only Big 12 team to do so last week. The Wildcats are without a doubt one of the better defenses in the league, especially up front.
They held South Dakota to 270 yards of total offense and didn't allow them to impress in the running or passing games.
K-State's rushing attack was dominant and led by Deuce Vaughn. He leads the league with 126 yards on the ground after one week.
It is the passing game that didn't show up. Part of that was because Chris Klieman and Collin Klein were content with saving a lot of those plays for their upcoming matchup with Missouri. Transfer quarterback Adrian Martinez simply didn't have a chance to showcase his arm.
However, that decision made for a poor third down conversion rate. Outside of that and the kicking game, Kansas State was on point in every facet of the game.
6. Iowa State
If Southeast Missouri State is anything like they were last year, Iowa State probably should have completed a shutout. With that said, it was still a convincing win for the Cyclones.
Iowa State held SEMO to under 100 yards rushing and made life difficult on quarterback Paxton DeLaurent who finished with a poor game. Matt Campbell's team was also very disciplined, only drawing three flags.
Offensively, they may have discovered a potential breakout performer in junior running back Jirehl Brock. He finished with over 100 yards on 16 carries and displayed a great ability to change speeds in his 6-foot frame.
Despite throwing an interception, quarterback Hunter Dekkers had an efficient four-touchdown game. However, he did not come out of the game, as they only held a 28-10 lead entering the fourth quarter.
We will learn a lot more about Iowa State when they travel to Iowa City to face the Hawkeyes. It is a must-win for the Cyclones, who have lost six straight to Iowa. Their rival is vulnerable because of a very weak offensive attack led by quarterback Spencer Petras and Kirk Ferentz's son, Brian Ferentz, at offensive coordinator.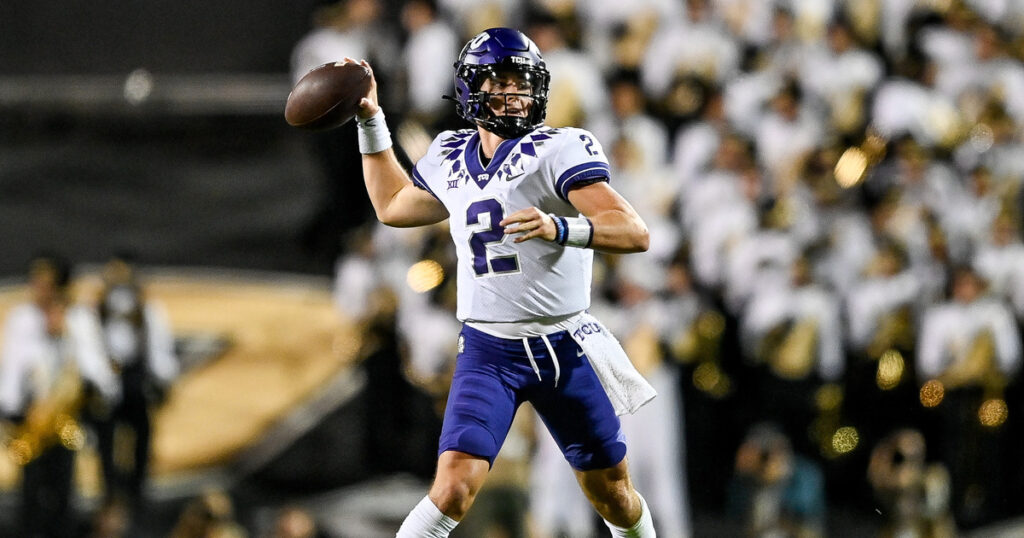 7. TCU
The Horned Frogs were one of only two Big 12 teams to play a Power Five opponent in the first week. To begin Sonny Dykes' first full season, TCU defeated a bad Colorado team 38-13 on the road.
It was a closer game than the final score would indicate, which isn't a good sign for the Horned Frogs. TCU surrendered more first downs than they gained and Chandler Morris left a lot to be desired through the air and was injured.
They have a chance to prove they can be explosive when they face Tarleton State next week.
8. Kansas
Kansas' reputation has them further down the list than they probably should be, honestly. They actually played a hell of a game against a putrid Tennessee Tech team. The Jayhawks produced over 500 yards of offense and held the Golden Eagles to under 200.
Devin Neal went over 100 yards rushing and two scores on just four carries. Five different Jayhawks scored with their legs. Jalon Daniels threw an interception, but he was decent otherwise.
Kansas defensive end Lonnie Phelps sacked the quarterback three times, which leads the Big 12. Can Lance Leipold's team use the opening victory to defeat West Virginia in Morgantown this week, or will they come hurling back down to earth?
9. Oklahoma State
After having an elite defense last year under coordinator Jim Knowles, who left for Ohio State, the Cowboys have some serious question marks on that side of the field. Central Michigan is a solid Group of Five team, but the Chippewas cannot be producing more yards and converting more first downs and expect people to think Mike Gundy's team will be fine.
Oklahoma State was exceptional on offense, but they didn't dominate on the ground.
Although Spencer Sanders had probably the best game of his career with over 400 yards passing and four touchdowns, I'm still not convinced he's much of a difference-maker in the league. Maybe the light bulb flips on for him and he can be that guy, but I will have to see it against tougher competition going forward.
A win at home against Arizona State will help move them up the power rankings. Giving up 44 points to Central Michigan has them down much further than I expected.
10. West Virginia
As the only team to lose in the first week, I had no choice but to put the Mountaineers last. In their defense, they played the toughest opponent when they faced No. 25 Pittsburgh on the road. And they should have won the game.
Neal Brown made some really bad calls on more than one occasion that cost them. They were better than the Panthers in almost every facet of the game, except for the coaching department.
While the game was tied at 31 with over three minutes to play, it was an interception returned to the house that put the Mountaineers away. The gut-wrenching part of it was that running back CJ Donaldson was having a breakout game while their passing attack wasn't producing for the most part.
West Virginia has a chance to jump a few spots if they can knock off Kansas.