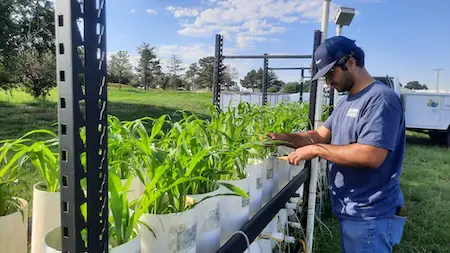 Kansas State University is taking the next steps toward a more sustainable future by launching and leading the collaborative, multi-institutional Kansas Water Institute.
In a press release, the university says that the interdisciplinary institute will build on the work of the Kansas Water Resources Institute that was established under the 1964 Water Resources Research Act and historically has operated out K-State's College of Agriculture.
The new Kansas Water institute will be elevated to a university-level priority at K-State to bring interdisciplinary university resources and expertise together to develop innovative solutions to today's water challenges. It will leverage more than 75 faculty across the university who ARE working on water-related issues.
Beth Montelone is the senior vice president for research and said that the school will be able to address water resource challenges in a meaningful and timely manner because of this new institute.
Kansas governor Laura Kelly also commented on the new project by saying the new institute will build on the state's goal to generate a sustainable future for water throughout the state of Kansas.
The university said that the Kansas Water Institute supports the focus on sustainability and community health and well-being which is part of the K-State's new Next-Gen K-State strategic plan that was introduced earlier this school year.