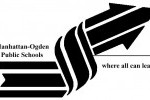 About 300 employees at Manhattan/Ogden's USD 383 will be paying more in taxes this year, due to an error in the payroll setup for tax year 2013 in relation to Kansas income tax withholding. The Kansas Legislature had changed the state income rate, and the new tax tables were not correctly entered into USD 383's financial accounting software.
USD 383 Associate Supt. Bob Seymour told KMAN Saturday about 300 employees, including teachers and administrators were affected.  He says the district "deeply regrets" the error, adding "we don't like this kind of thing to happen."
Seymour adds those impacted are single employees making more than $33,000, with $735 not withheld, and those with married status making  more than $66,000, that amount doubles to $1,470 not withheld.
He says the problem has been corrected for 2014, but it's too late to fix the 2013 taxes, especially with some people already filing their taxes.