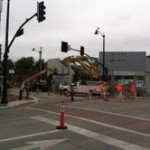 Demolition work has been going on the last couple of days at CivicPlus' new site at Fourth and Pierre. The location formerly was the site for Manhattan Appliance and Sleep Source. Plans are to have things cleared by June 14.
CivicPlus held a groundbreaking ceremony early this year. The government website development company specializes in the building of city and county e-government communications systems. During that event, it was announced that CivicPlus serves more than 1,300 local governmental websites and 50 million citizens across the United States, Canada, and Australia.
The finished building will stand at five stories tall, with the first floor containing a restaurant and retail space while the company while occupy the remaining four floors. The company has been spread out in different buildings in Manhattan with more than 120 employees, and plans to have more than 250 employees hired within the next 10 years.