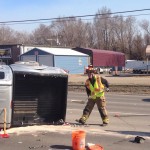 (Courtesy MFD Facebook Page)
Multiple vehicles were involved in an accident at the intersection of Fort Riley Boulevard and Westwood Drive in Manhattan shortly after 4 p.m. Wednesday. The accident resulted in traffic being diverted to other roads in the area while emergency crews responded to the scene.
No injuries were reported as it appears all those involved were wearing seat belts. The accident scene was clear as of 5:30 p.m.