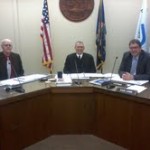 Riley County Commissioners viewed plans and outlines for two potential projects during Monday's commission meeting.  Public Works Director for the City of Manhattan, Rob Ott presented both agenda items.
Ott first briefed the commission on the Manhattan Regional Airport upgrade plans.  He shared maps of the land, and what needs to be done to the area.  A three lane intersection near Skyway Drive, curb and gutter improvements and storm/sewer adjustments were some of the items discussed.
"We are looking at $200,000 of storm/sewer improvements if we don't improve Airport Road", Ott commented.
Ott recommended the project be funded similar to how the Marlatt Avenue project was handled.  The county will not be expected to pay anything until the project is complete.  According to Ott's slideshow, the costs only related to the county would be around $250,000-$300,000.
The commission came to a consensus for the Riley County Public Works Department to work with the city's department on the project.
Cico Park was the second topic of discussion, as the tributary detention ponds need to be adjusted.  Ott said the idea came up, that when the excavation process occurred with the ponds, that material could be used to help re-shape the sled hill.
Currently, children use the sled hill every winter, but they take their own routes to the bottom.  Ott shared a preliminary plan that would involve creating three different "shoots" for children to enjoy sledding down.  They all would go down one side of the hill, and designated locations could be put in to climb back up the hill.
Ott mentioned it may be wise to put a fence around the remainder of the hill so children don't sled on other sides.
As far as funds, Ott said they did not need funding from the county, but were simply asking for permission to continue with the project, as it is county land.
The commission unanimously granted permission for Ott to move forward with the project.  County Commission Chair, Robert Boyd commented, "I think it's a great idea to provide something like this for our community".
———————-
Fourteen grass fires took place around the county this weekend, according to Riley County Emergency Management Director, Pat Collins.
Many of them seemed to be caused by dryness, wind, or a combination of the two factors.  Collins mentioned the most dangerous fire occurred on Vincent Road when two children were playing with fireworks.
———————–
Commissioners also approved a $1,000 contribution to the Veteran's Coalition, which is double what they donated last year.